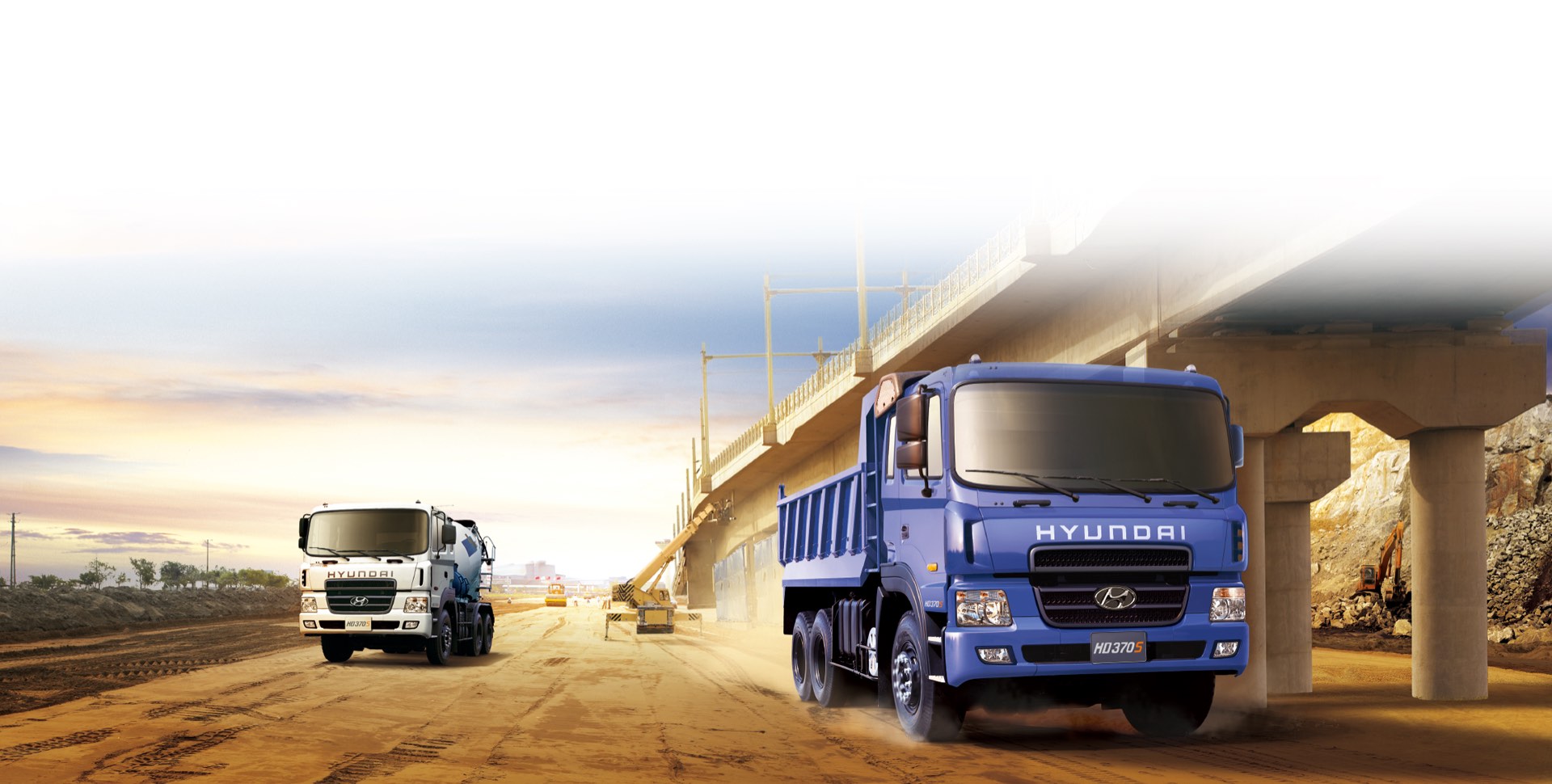 Built for construction, made to Earn you money
Economical performance made easy

Hyundai mixer trucks: For the perfect mix of performance, price and reliability.Take a closer look and you'll soon appreciate why Hyundai mixer trucks offer the best value for money today. The drum design combines top mixing performance and ruggedized construction for a long service life. The double spiral screw delivers highly efficient mixing and pouring performance enabling you to deliver the highest quality ready mixed concrete that your customers expect.

A match for the second to none

Check out the lineup of Hyundai dump trucks and you'll be impressed not only by the wide range of models but also by the build quality. You'll appreciate the durability and top performance features that Hyundai engineers are renowned for. And what's best of all is the priceto-performance equation that no other truck maker can match.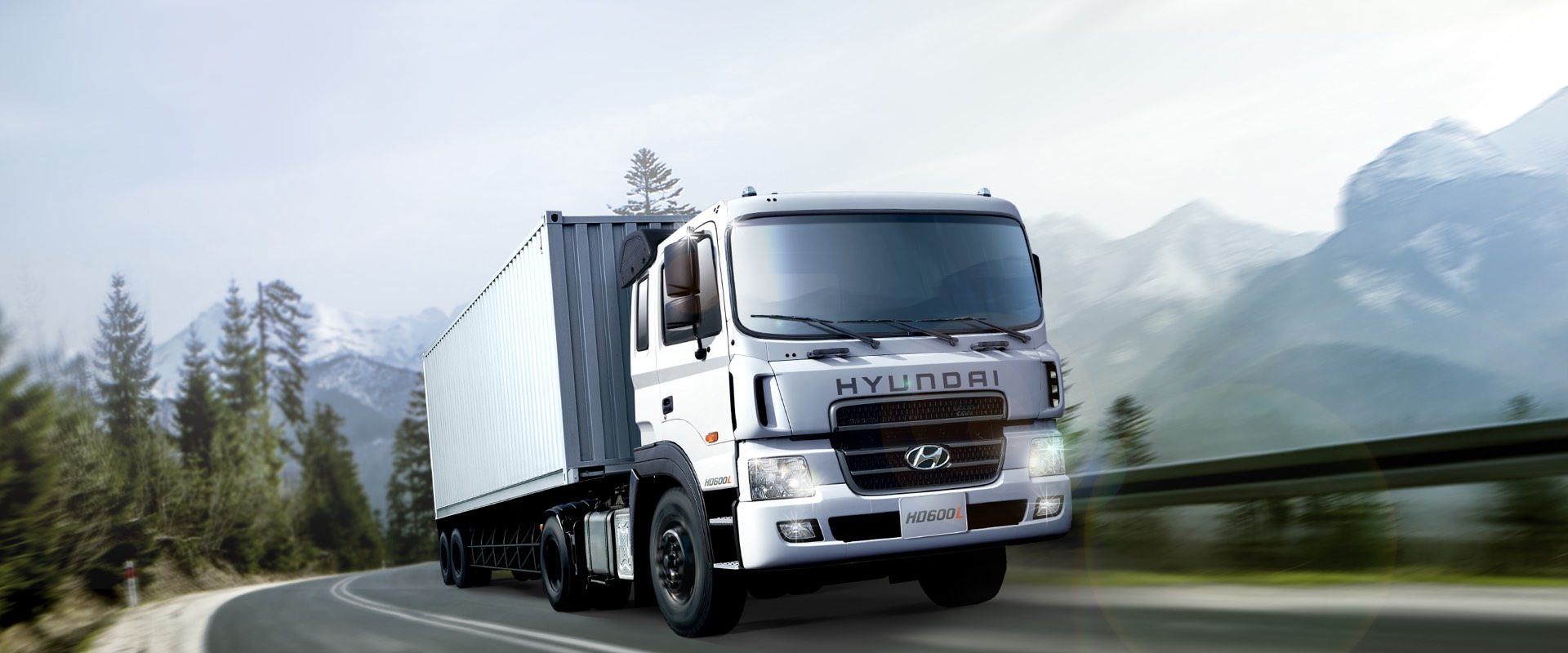 Performance & Safety
Consistent Policy of Efficiency:Transport, Loading and Cost saving securely
Engine
Here is the performance engine you need.
0,000

~

00,000

Displacement(CC)
Maintenance
Hyundai keeps you up and running

50-Degree Tilting Cab
Service personnel will appreciate the extra-wide cab tilting angle which makes it easy to access the engine to perform maintenance and repair work.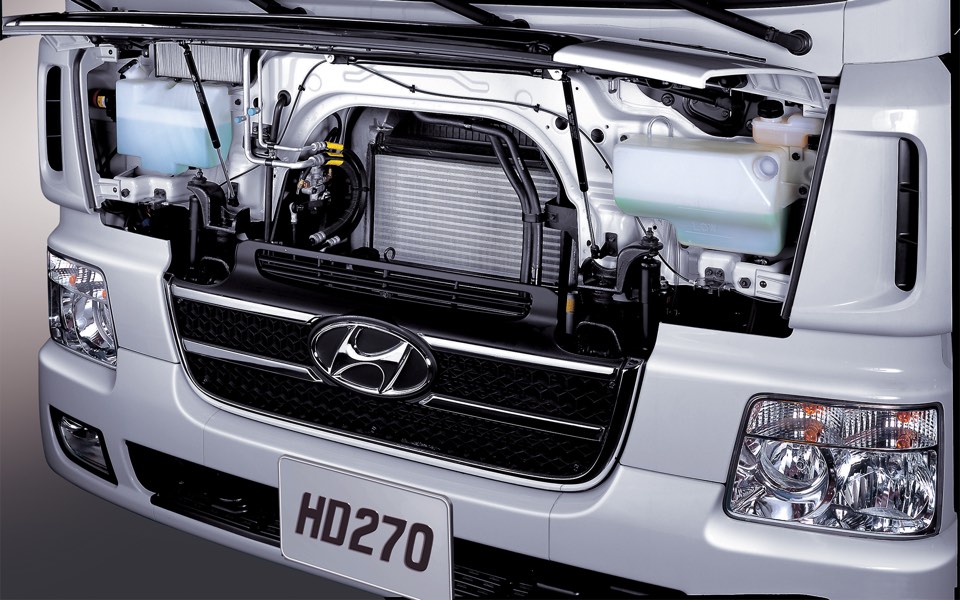 Efficient management
Hyundai keeps your truck up and running because minimum downtime means maximum profits. Raising the panel provides quick and easy access for the visual inspection of vital fluids as well as air filter replacement.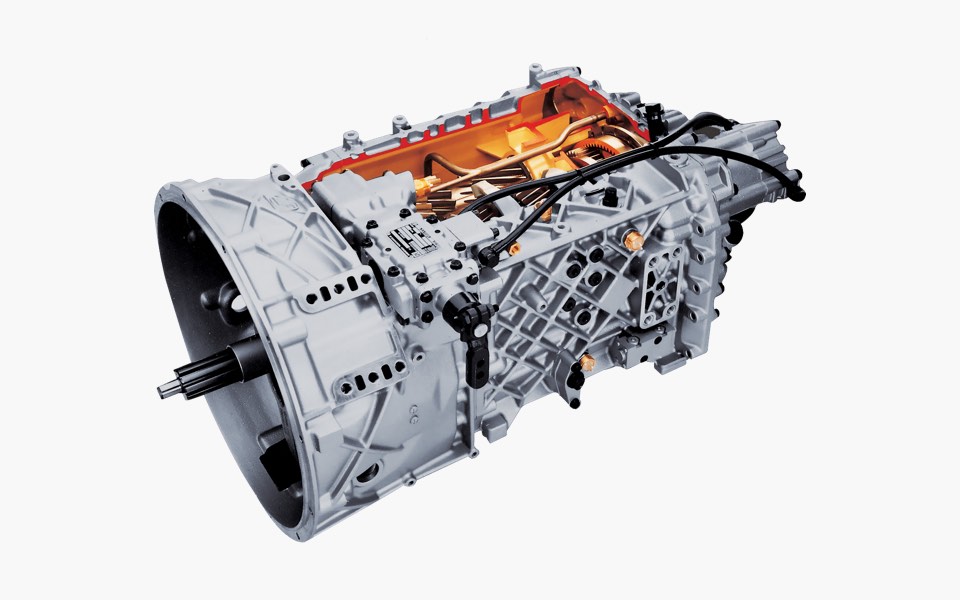 ZF 16-Speed Transmission
ZF transmission applied aluminum alloyed case for ultra light weight ensures good fuel economy and has superb durability and convenience for hard work.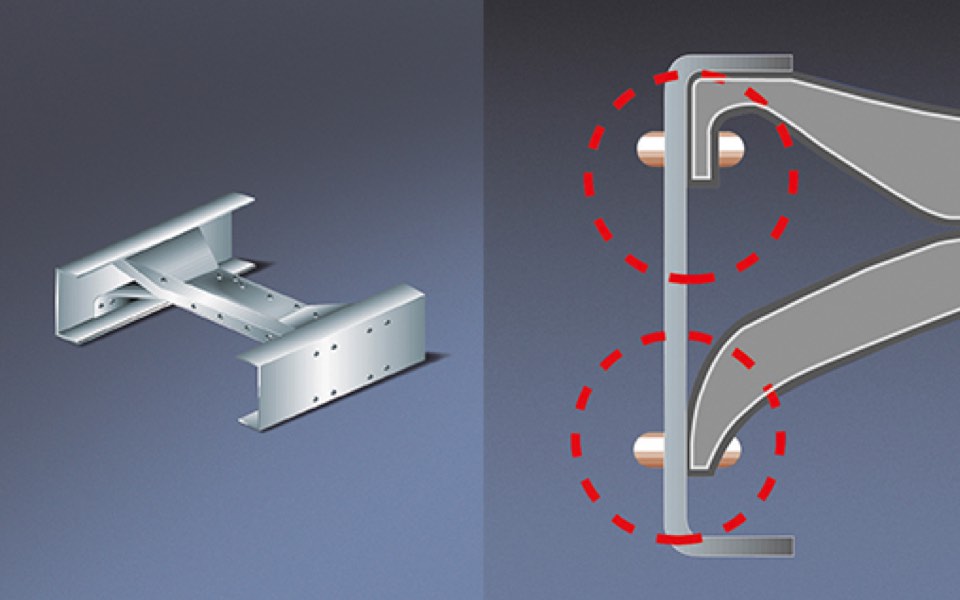 Crossmember Reinforcement
To achieve the highest possible rigidity and strength of frame for distributing payload, heavy duty cross members are added using all bolted construction technique.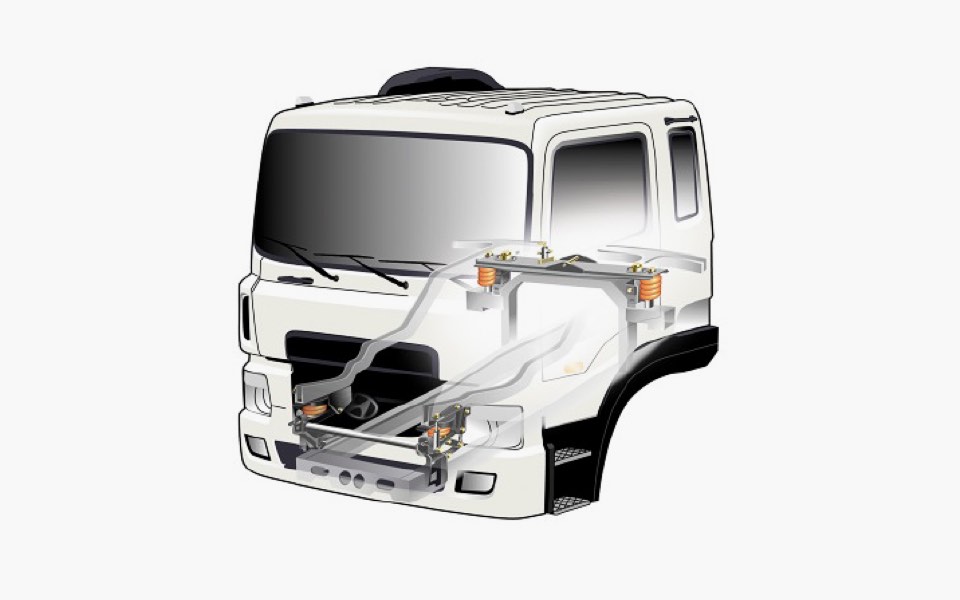 Coil Type Full Floating Cab Suspension
The cab rides on four coil spring mounts to free the driver from fatigue road shocks and vibration. An air suspension provides an option.

Safety
Our Philosophies, Your Safety
Strong frame
The Hyundai Heavy Duty Truck is also developed for maximizing safety and minimizing risks. It starts from an impressively durable and strong frame.
Aluminum Alloyed Large Capacity Air Tanks
Wide and Strong Front Bumper

Rigid construction
The frame of the Hyundai Heavy Duty Truck offers the benefits of a robust, durable and rigid construction for the toughest work as well as a long range haul.
Tapered Leaf Spring

The spring mass of the front axle is reduced by the application of long tapered parabolic springs which improve load distribution and maximize load carrying performance.

Wheel Hub Pilot

The hub pilot on wheel is designed to optimize torque of the lock nuts and eliminate vibration for safer driving.

Front Stabilizer Bar

Front stabilizer bar increases structural rigidity to more effectively absorb vibration and road shocks.

Shock Absorber

New hydraulic dampers improve steering and handling qualities for a more precise and comfortable driving.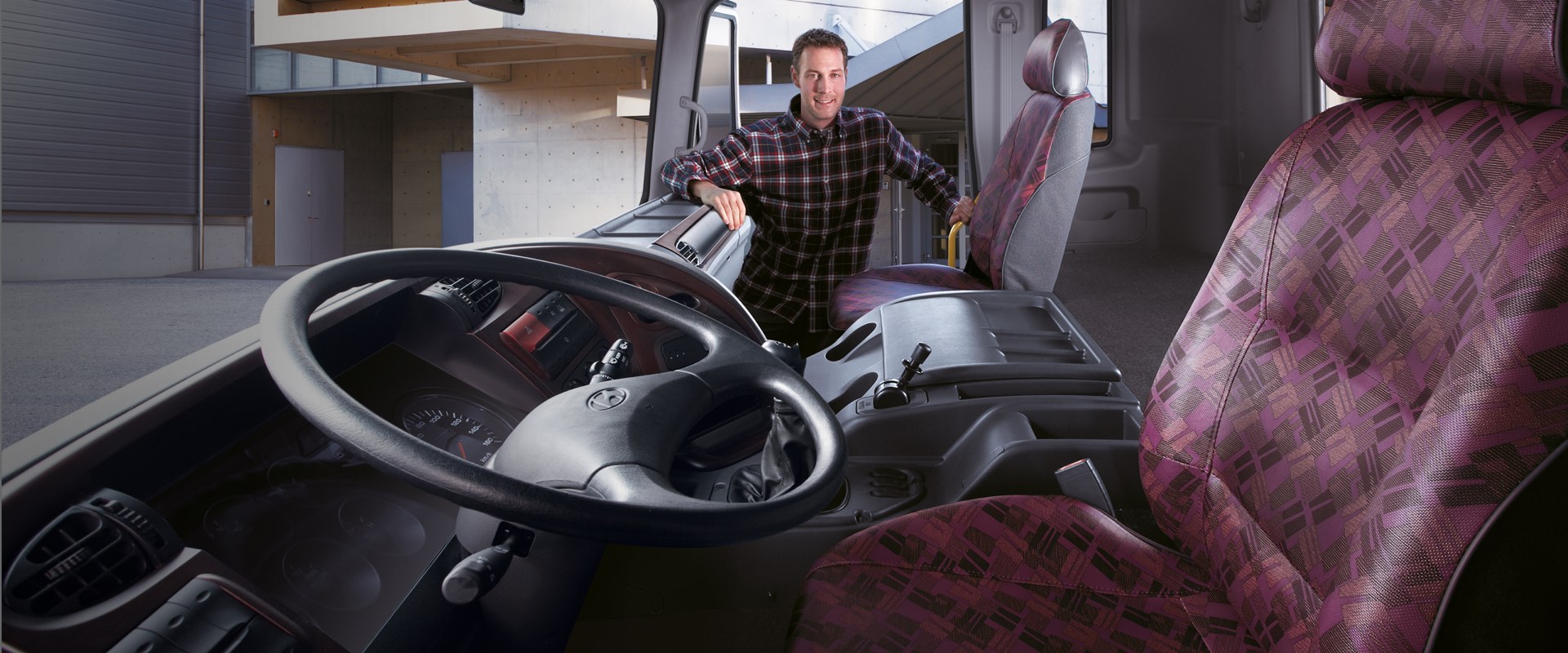 Convenience
Advanced thinking. Maximizes Your Possibilities
Style
Each detail reflects solid craftsmanship and brilliant design.

Gauge Cluster
The instrument cluster in the Hyundai Heavy Duty Truck stands out with its clear layout and high readability thanks to LED illumination.
Wide Opening Door and Anti-slip Step
Hyundai Heavy Duty Truck's ergonomically designed access has all the necessary safety features such as anti-slip foot step and 90 degree opening doors.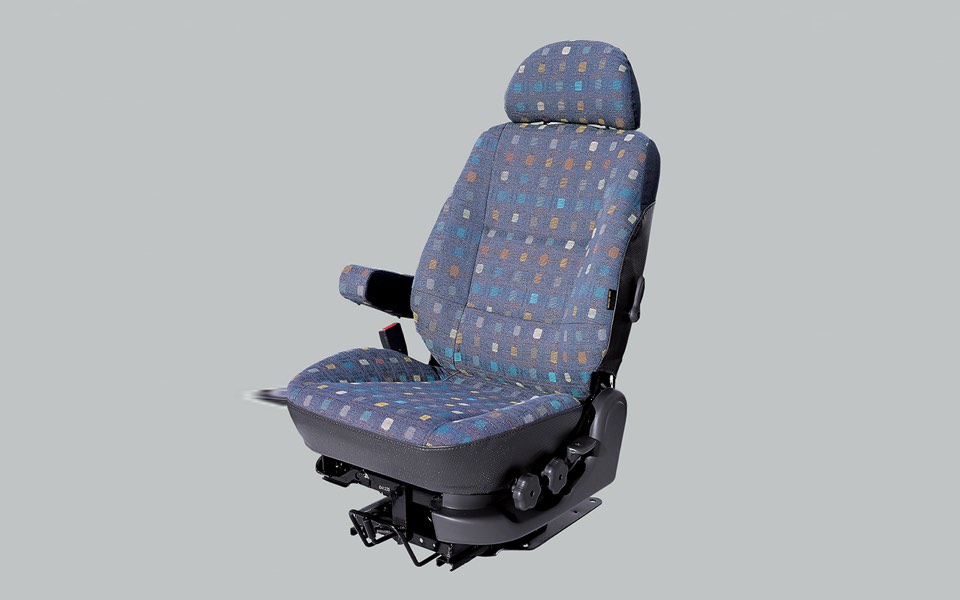 Air Suspension Seat
The air suspension seat offers an ideal driving position from pneumatic lumbar support and side contour adjustment for fatigue free driving. (Optional on all models)
7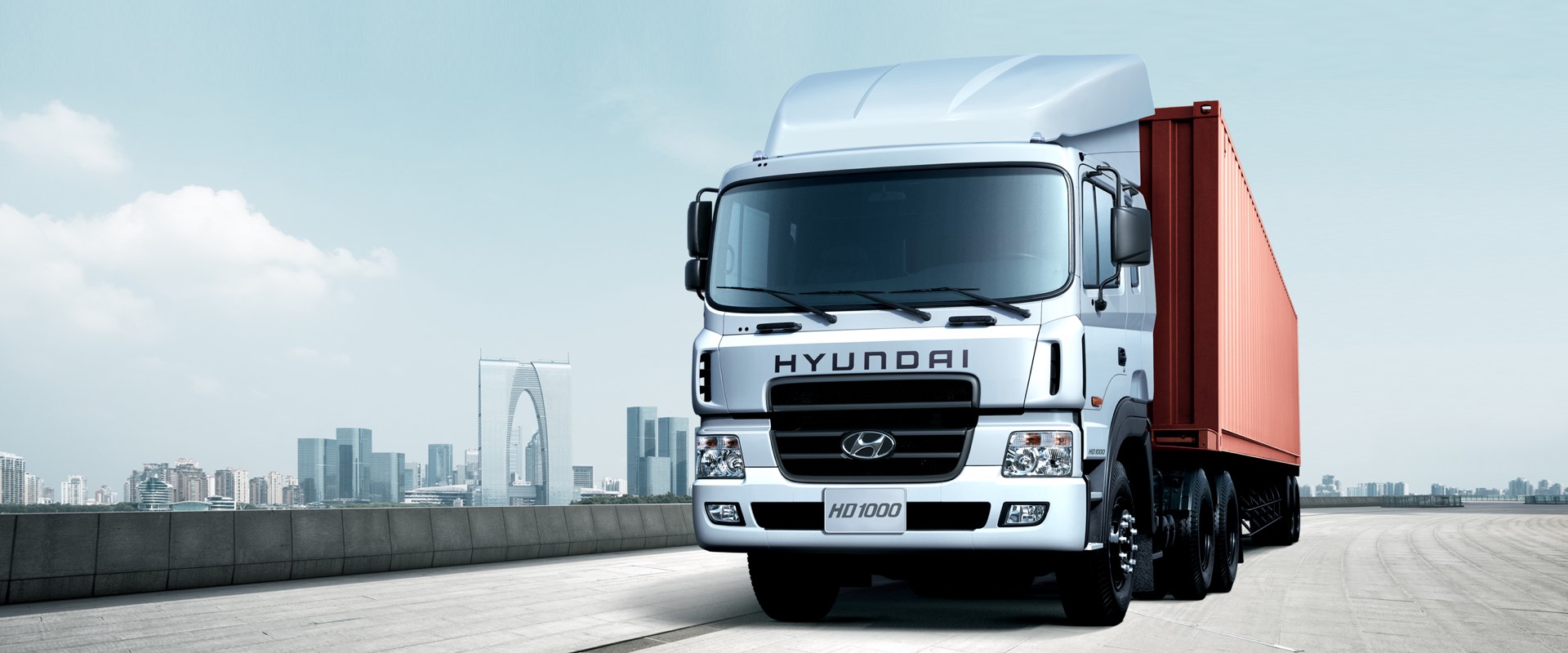 Design
Designed for Perfect Business

Refined design
The new aerodynamic cab proudly reflects a modern taste. Tough, but gentle lines combine sensuous curves for an energetic and refined look.
MFR Type Headlamps

The new and effective clear-glass headlamps containing complex surface reflectors which further extend the range of the road illumination allow the light to be emitted to the best possible effect.

Front Grab Handles and

Window Washer Nozzle Front grab handles offer a secure grip for cleaning and maintenance operations. Window washer nozzles deliver all round visibility in any weather.

Corner Vanes

Cab aerodynamics is advanced by the addition of corner vanes which assist reducing wind noise inside the cabin.

Wide Bumper and Fog Lamps

Large wraparound bumper offers 2-stage protection for excellent safety. Built-in foot steps clear angulated front fog lamps further enhance visibility.
Roof Spoiler (Air Deflector)

The roof spoiler improves cab aerodynamics for better fuel economy at high speed cruising.

Large Outside Mirror

Large outside mirror provides a perfect side view, while their housings are rounded for reduced wind noise. Heating function is available as an option.

Air Intake Duct

Both the high mounted and low mounted air intake ducts on the cab had been designed to maximize the intake efficiency with large capacity, while the aerodynamic design reduces air resistance.

Radial Tires and Alloy Wheels

Radial tires offer, for better fuel economy, quieter performance and greater safety. What's more the alloy wheels are more efficient for long range trips as they increase of braking power.

Comfortable interior
The ergonomically designed driver's space on the Hyundai Heavy Duty Truck harmoniously combines functionality with efficiency
Wide and Long Sleeping Bed

The generously sized bed, clearly separated from driving space, offers cozy relaxation to the fatigued driver. A heating pad is provided for the driver's convenience.

Center Console Box

With various compartment in the Hyundai Heavy Duty Truck's cab, wide open towage area is located in center console for various small items which are required for your business.

Overhead Console Box

The driver will find spacious stowage compartments above the windscreen, which offers sufficient space convenient in holding small goods, maps and various documents needed for your business.
Line up
HD170~1000 Line-up

GCW 45t
HD450/HD450L

< 3,450/3,910(L) >
GCW 50t
HD500/HD600L

< 3,450/3,910(L) >
GCW 70t


GCW 18.8t

GCW 30.6t

GCW 30.6t

GCW 38t


GCW 18t

GCW 32t

GCW 43t

GCW 38t


GCW 32t

GCW 38t

Specification & e-Brochure Download
Actual models and specifications may be different by region.
Vocation
We are certain that the particular vehicle we propose will never disappoint you. What kind of commercial vehicle do you want?
Network
You can meet modern commercial vehicles anywhere in the world.
Your Location
Korea (Republic of)
HQ

Hyundai Motor Company Headquarter

Phone

82 2 3464 1114

Website

Plant

Jeonju plant

Phone

82 63 260 5114

R&D Center

Hyundai · Kia Namyang R&D Center

Phone

82 31 368 5114