Rigidity and Reliability for Safety is the top priority
The New Super Aero City simply radiates a sense of solidness. Its occupant can be in no doubt whatsoever that they are in the safest of hands. Its secret : the truss type structure. So, centre frame is improved flexural and torsional rigidity than frame type structure. And the sturdy body, organized with one-piece type roof bows and enforced roof corner panel, provide extra stability and a wide range of safety factors - both active and passive - ensures the best possible protection for all occupants.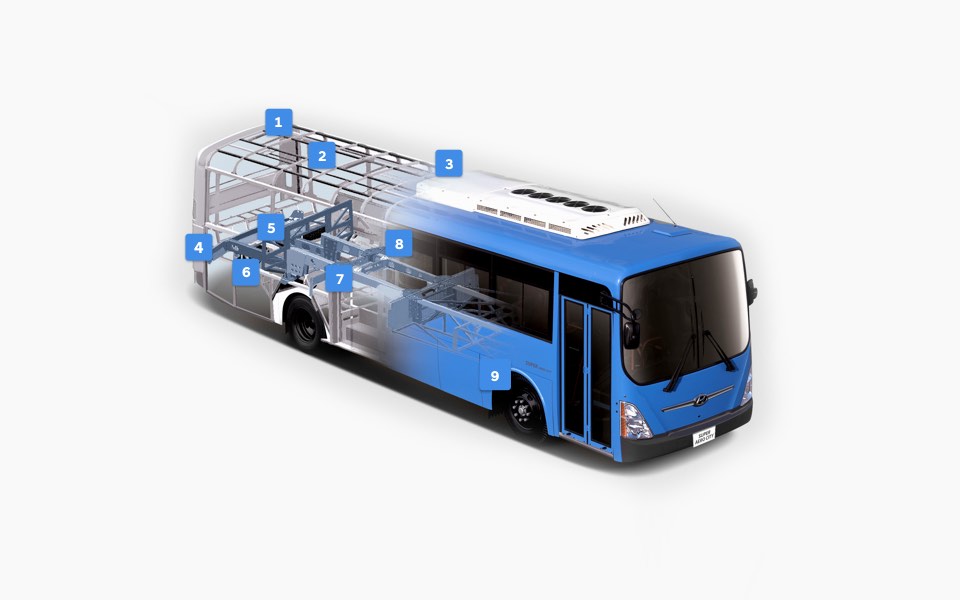 1.

Skid Rails Into One Piece and Upsized Window Pillar

2.

Simplified The Rear Frame

3.

Cant Rail Section Close Form

4.

Added 2 Beads To Corner Panel

5.

Integrated Roof Bows Into One Piece

6.

Rear side frame with enhanced bending and torsional rigidity

7.

Square Tube Structure Of Centre Frame

8.

Improved The Rigidity Of Mid Door

9.

Raised The Height Of Out-trigger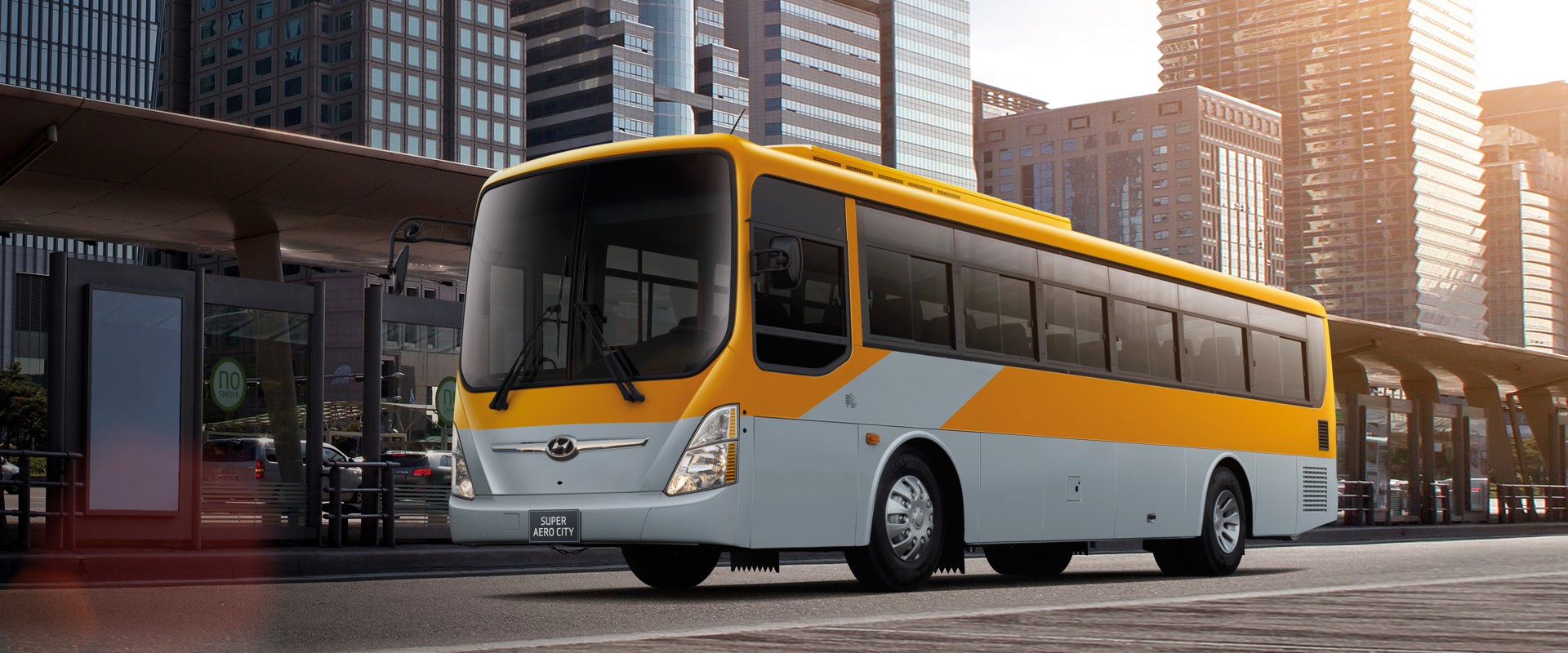 Performance & Safety
A True Powerful and Safety Performer with economy For Your Fleet
Engine
Powerful and high torque engines
0,000

~

00,000

Displacement(CC)
Maintenance
Large engine room opening is secured so mechanics can easily provide service and repair.

Engine Room Layout (Diesel Engine)
Ensuring repair space in the engine room as large as possible makes mechanics service more easily and comfortably. Enhancing the durability of main components reduces frequency of repair.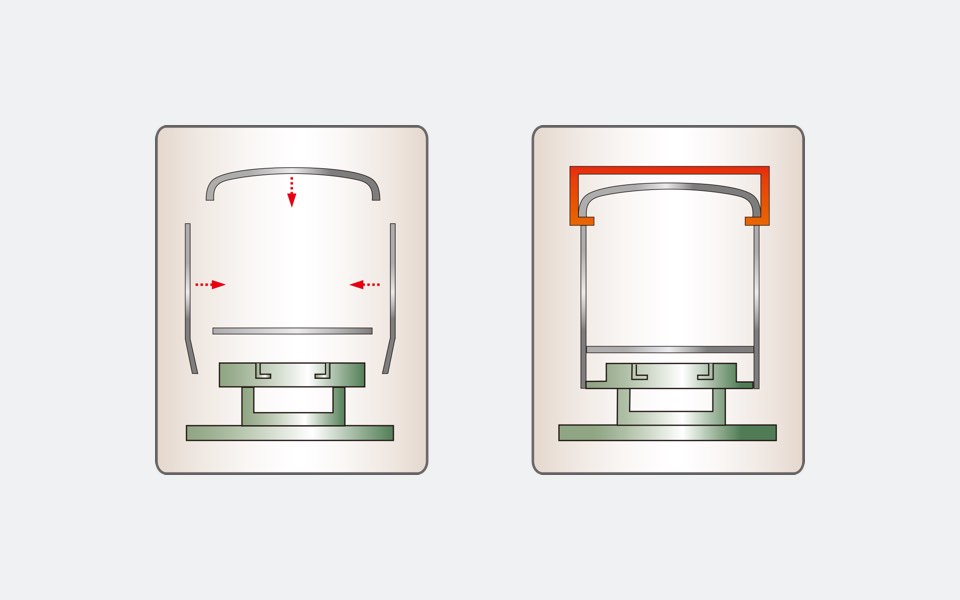 Deck Assembly Method
Other innovations include the introduction of the deck assembly method. The method attaches the entire body assembly to the chassis for greater precision, stiffness and strength.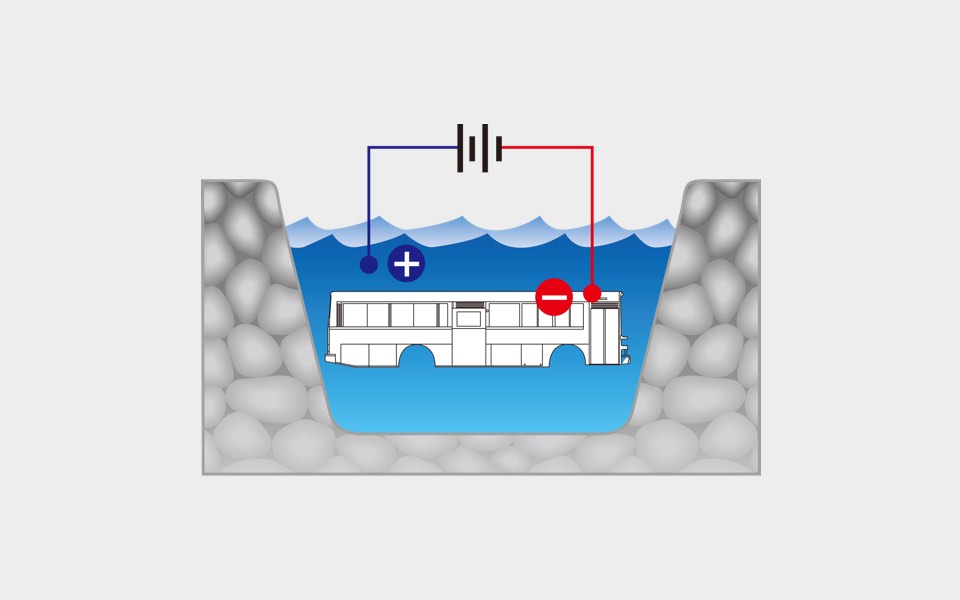 Electro Static Immersion System
Hyundai has a large-capacity electrostatic priming tank that can accommodate the entire bus body, and it provides maximum corrosion protection by reaching previously unreachable areas.


Safety
We aim for active safety.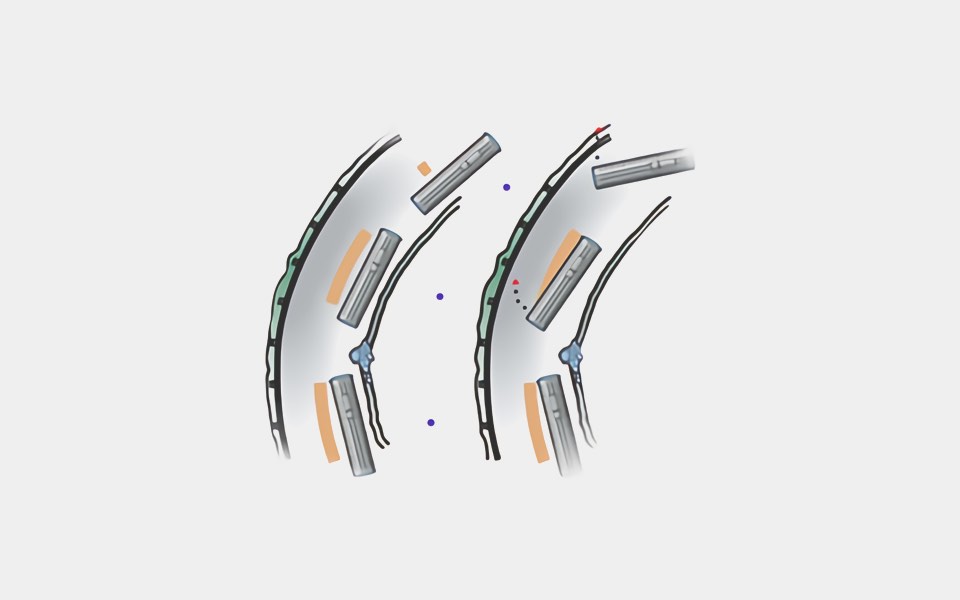 ABS with ASR
Controlled brake is particularly advantageous while driving under slippery road conditions. With ABS/ASR, maintain full directional stability at all times and avoid dangerous situations (option).
Brake Shoe with Integrated Return Spring
Large diameter and wider and thicker brake shoe guarantee braking performance. And integrated return spring improves durability
CNG
The best bus that is environment-friendly rather than environment-regulated.

Eco-friendly Power attracts the nature to closest.
For the passenger, it also provides quiet comfort. Moreover, the turbo-intercooled 290 horsepower engine provides assistance to reduce fuel cost.
Precautions in using CNG Bus

Required to use an engine oil for the exclusive use of CNG. (More than API CF-4 Class) Fuel cylinder durable for 15 years from the date of manufacture. Prohibited to charge more than the common pressure (3000psi)

Type:

TCI

Torque:

110kg.m

Mass Storage Fuel Gas Holder

Produced under strict safety standards of advanced countries to ensure its safety in tough situations such as collision, fire, etc.
(standard : 7 units / option : 8units)

Substructure Protection Net

To protect the fuel cylinder from shocks, impact or obstruction, the bottom clearance from the ground is kept at the same level as that of diesel vehicle and the protection.
Tubeless Radial Tire

The powerful 11R22.5-16PR size tires provide comfort driving and increase durability of vehicle.

Safe Entry Step

Lowered entry step makes it easy for physically handicapped and older passengers to get on the bus.

Large Windows and Rear View Mirror

Upper mounting typed double stay outside heating mirror improves visibility and appearance.
Gas Inlet

The check valve in the inlet prevents the reverse flow of fuel when dueled.

PRD Valve (Pressure Relief Device)

It prevents to release gas from the car in an accidental fire.

Engine Room Layout (CNG)

Engine Room Layout that allows cng to be used safely in the engine
Anti-Overflow Valve

Installed in each fuel cylinder to stop the gas supply when leaked due to collision or other accidents.

Side Impact Bar

The side impact barrier is installed to protect the fuel cylinder from the impact forces coming out of collision or other accidents.

Fuel Tank Full Flap Door

All 3 flap doors are designed to open and equipped with the hole for discharging gas if its escape.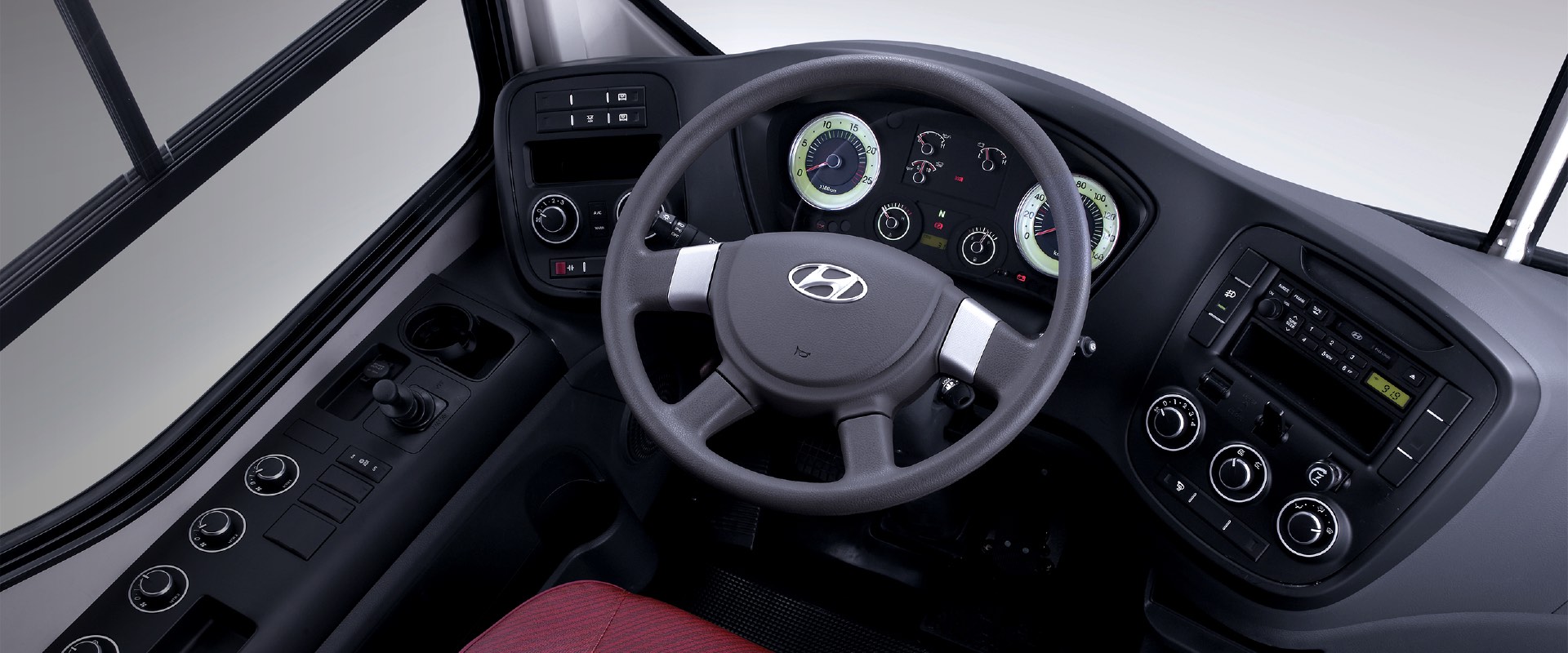 Convenience
A Premium Travel Experience
Style
Dignified appearance of New Super Aero City outshines

Drive the full of convenience
Its well-arranged instrument cluster keeps you perfectly informed, while the four-spoke type shock-absorbing steering wheel is available for safe driving.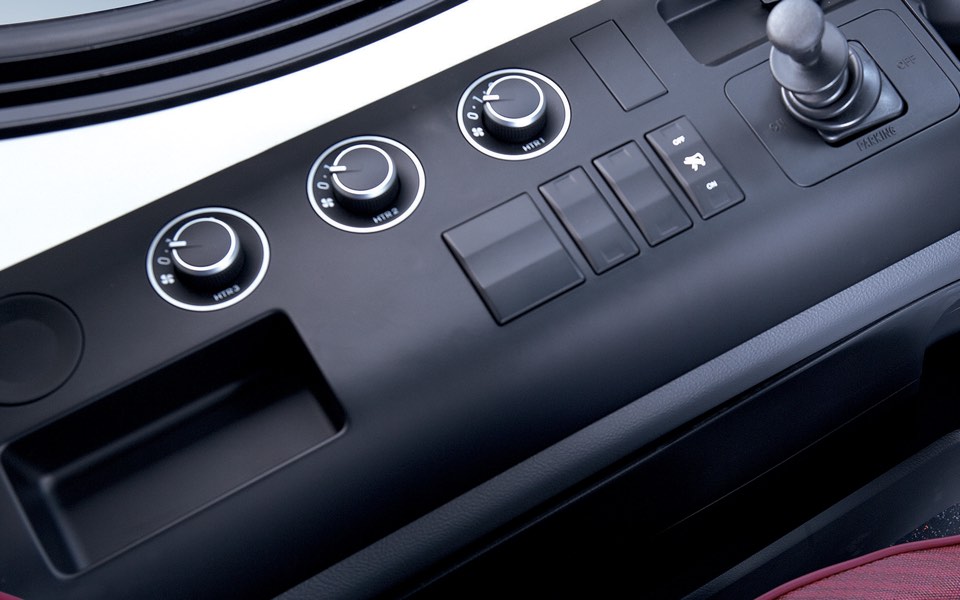 Control Box
It provides a soft-curved control box close to the clustered, ergonomically designed heating and air-conditioning switches, and a useful power outlet and air parking brake for excellent driving efficiency.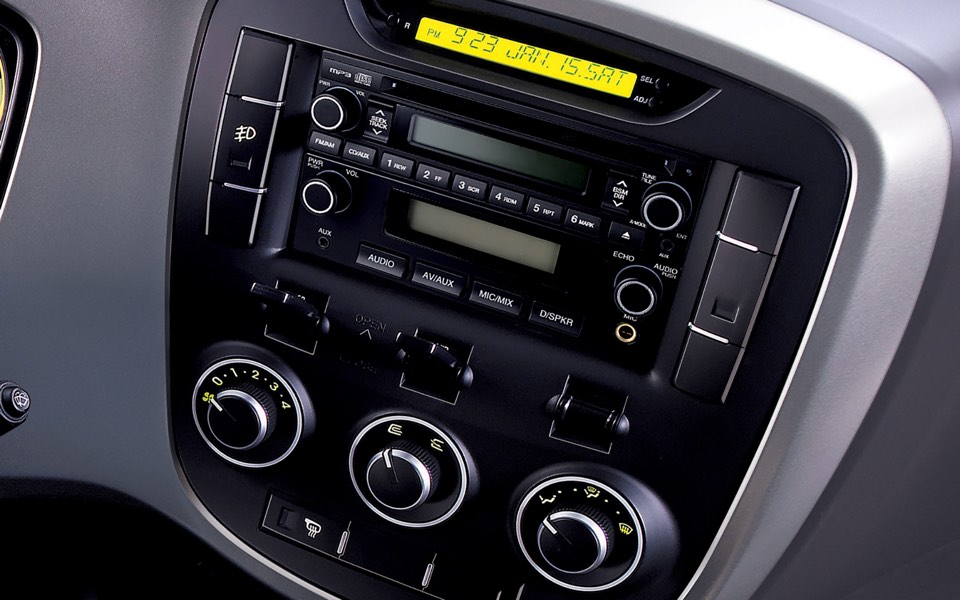 Audio System
M600B High Class Audio system matches the interior acoustics of the new super Aero City for more pleasant trip.
Air Suspension Seat

Air suspension seat furnish more comfortable ride with less fatigue to the even though long distance driving

Heating Unit

Roof-mounted electric fan deliver fresh air at anytime passenger want

Driver's Overhead Box

There is small box on the roof side to enable passengers to store bits and pieces during the journey.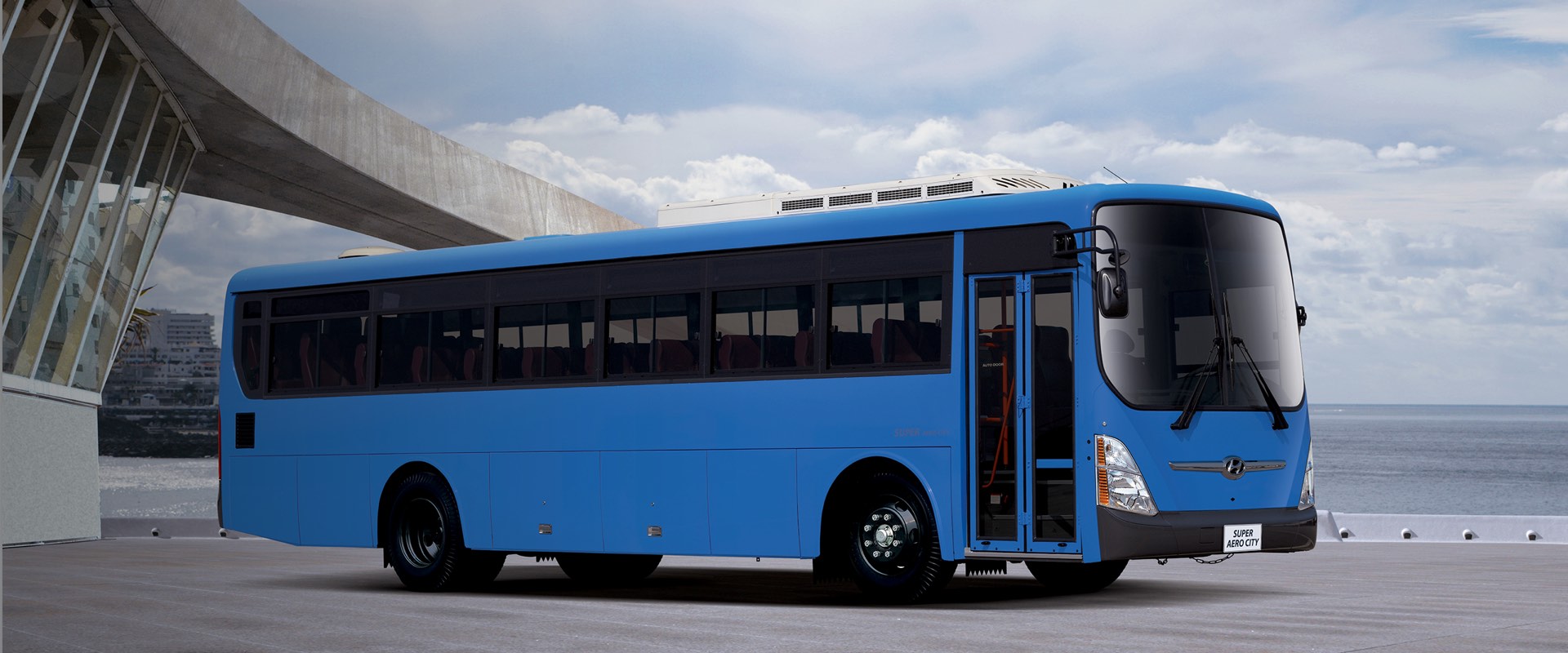 Design
In the city, dignified appearance of New Super Aero City outshines.

Refined urban transport for everyone
Comfortable and convenient, fresh and stylish—welcome to the New Super Aero City with comfortable seats. In this quiet cocoon of sanity, the driver and the passengers will want nothing of substance.
Rear bead panel

The new rear bead enhances durability by emphasizing stronger images and changing the material of the rear corner bumpers.

Wiper blade

A longer blade, 600 mm provides excellent visibility during bad weather.

Corner bumper

Super Aero City possesses more neat and chic shape by changing the material and color of corner bumper
Luxury window

Luxury bus-type windows highlight the exterior shape and improve durability.

Stylish Head Lamp

Vertical type head lamp helps safe driving as strong headlight beam.

Mid door

Broadening the middle door to 1100 mm ensures rapid and convenient passenger movement.

True comfort zone par excellence
The interior is comfortable and friendly. The newly designed seats offer excellent shape and color, have delightful interior illumination, and are also extremely comfortable to sit on.
Power steering

Appropriate maneuvering for driving speed and condition provides the way for fatigue-free driving.

Driver Side Stanchion Pipe

Surrounded stanchion pipe of driver seat provide not only to protect the driver.

T.G.S. Knob

Metallic T.G.S knob is extremely easy to use with luxurious feeling.

Electric Ventilator

Roof-mounted electric fan deliver fresh air at anytime passenger want.
Round Type Hand Strap

Newly designed hand strap provides comfort even though standing passengers.

Call Buzzer

Call Buzzer is located well and easy to reach.

Natural Type Ventilator

The manually operated roof hatches ventilate the passenger compartment which give the passenger can enjoy outside fresh air so easy.

Overhead Vent

Adjustable air-conditioning louver help a pleasant climate control with wolf-integrated heating system.
Line up
Super Aero City Line-up
Inter City

1-Door (45+1)
2-Door (38+1, 45+1)

Specification & e-Brochure Download
Actual models and specifications may be different by region.
Vocation
We are certain that the particular vehicle we propose will never disappoint you. What kind of commercial vehicle do you want?

Network
You can meet modern commercial vehicles anywhere in the world.
Your Location
Korea (Republic of)
HQ

Hyundai Motor Company Headquarter

Phone

82 2 3464 1114

Website

Plant

Jeonju plant

Phone

82 63 260 5114

R&D Center

Hyundai · Kia Namyang R&D Center

Phone

82 31 368 5114