WHATEVER YOUR PAYLOAD
READY FOR ANYTHING, EX Series CARRIES MORE PER LOAD FOR FEWER TRIPS

Classified according to gross vehicle weight, the EX Series range spans five different models from the 5.5-ton EX5 to the top-of-the-line EX9 which features a 4,850mm-long deck and 8.2-ton GVW rating. The reinforced rear axle has a 6,600kg maximum weight ratings so your cargo rides safely without worry. Powertrains are tailored to match respective cargo hauling capacities
The best in Comfort and Cargo Efficiency
Super Cab

Standard Cab
EX

5

Rated at 5.5T GVW, the entry-level EX Series features a Standard Cab only and a 2,850mm wheelbase.

EX

6

Rated at 6.5T GVW, the EX6 comes in three wheelbase lengths and choice of Standard, Super or Double Cab.

EX

8

The 7.8T GVW-rated EX8 offers a choice of four different wheelbases and two Cab types.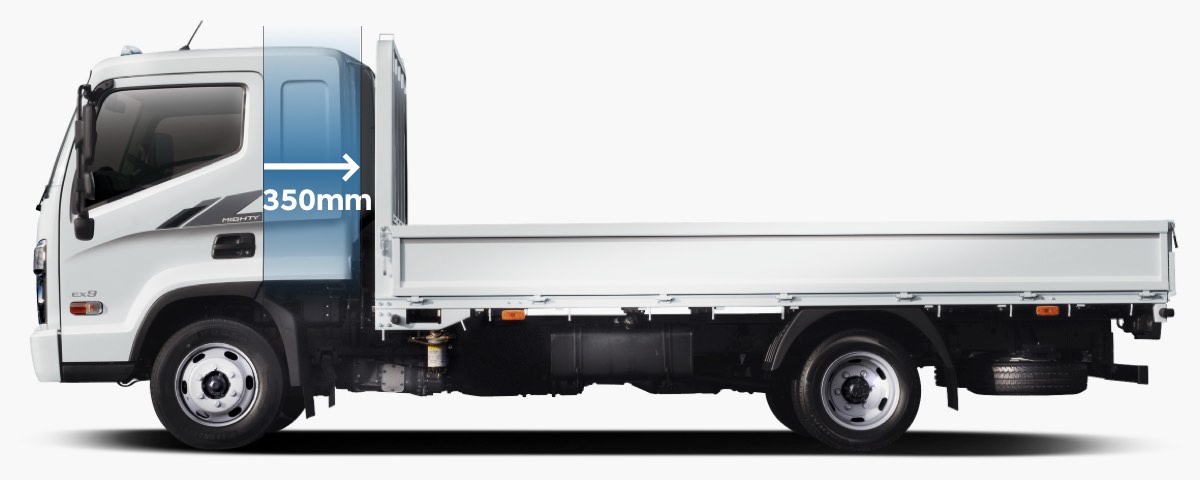 4,400 mm Extra Long Wheel Base
Extra long wheelbase(for Super Cab) EX Series at its mightiest, the Extra Long provides maximum load space.
4,050 mm Long Wheel Base
Optimized Super Cab Wheelbase With room for your crew and a longer 4,050mm wheelbase, the Super Cab offers the best of both worlds. Standard Cab wheelbase measures 3,850mm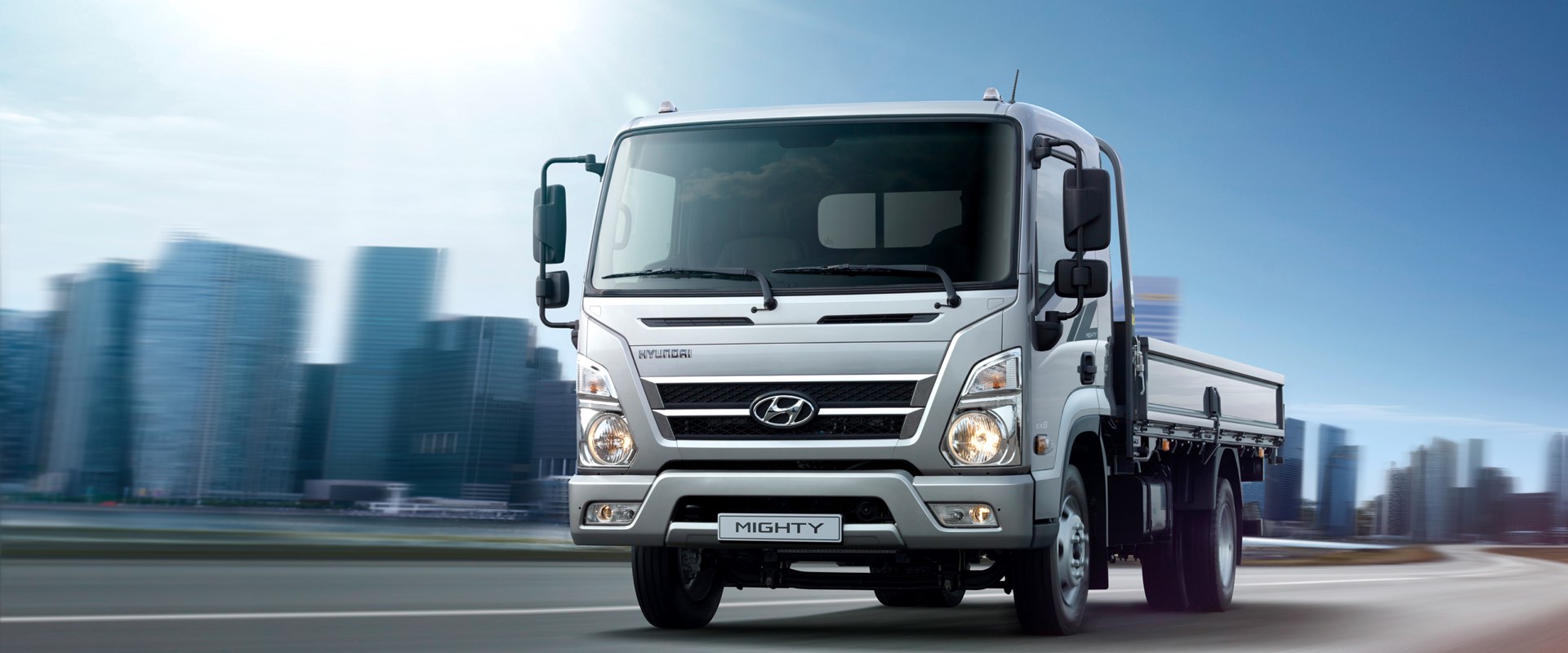 Performance & Safety
The EX Series helps minimize risk and dangers with its various safety features, while the advanced Vehicle Dynamic Control provides the ultimate braking performance.
Engine
EFFICIENT, POWERFUL AND RELIABLE
0,000

~

0,000

Displacement(CC)
Maintenance
MORE MILES WITH LESS LITERS

Efficient
EX Series is D4 family of CRDi engines. The straight-four powerplant is mated to a 5-speed manual transmission (6-speed in the case of the 170ps D4GA17) to drive the rear wheels.
T60S6

6-speed manual transmission

T60S5

5-speed manual transmission.

Improved Rear Suspension

For easier maintenance of more parts compared to the previously applied maintenance panel opening

Anti-Vibration Dampers

Integrated spring and shock absorber, enlarged shock absorber size generate lower vibration and better absorption of up/down pitching. Lateral shock absorber applied lower left & right vibration.

NVH Countermeasures
The EX Series has developed countermeasures to achieve noise and vibration reduction. Cab floor height, new engine mount installation, and single structural frame.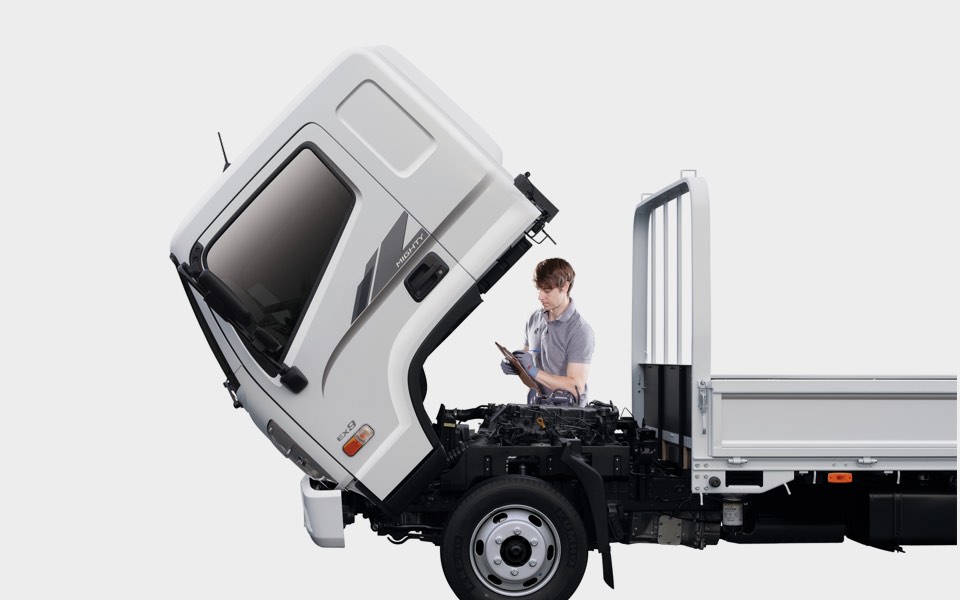 Engine moved forward
By moving the engine forward 50 mm, an extra load space has been created. This has also allowed the cab to be mounted lower, achieving a lower center of gravity and reduced vibrations.
Easy Winter Starting

The fuel system includes pre-heater to prevent icing and promote fast starts in sub-zero temperatures.

Easy to Customize

For easy upper body customization, the ladder frame features a matrix of predrilled 11mm holes spaced 50mm apart.

Improved Junction Box

New design allows for quick of burnt out fuses and easy checks replacement to detect current leakage.
Safety
YOURS SMART GURDIAN.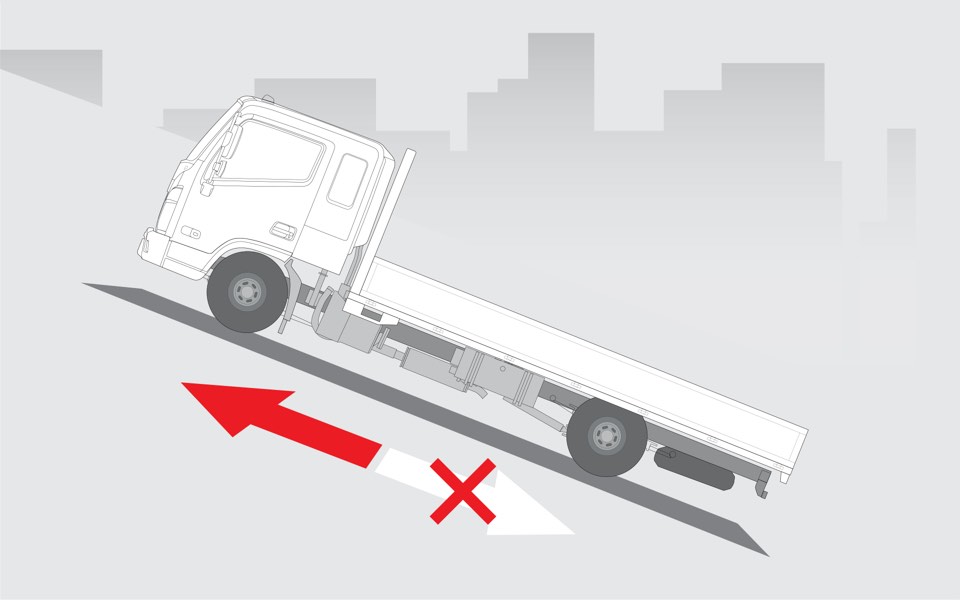 Easy Hill Start (EHS)
EHS prevents accidental 'roll back' when releasing the brake to proceed a steep slope
Electronic Stability Control (ESC)

ESC uses selective braking of individual wheels and engine intervention to help maintain directional stability.

Anti-lock Braking System (ABS)

ABS helps maintain directional stability and decreases stopping distances on slippery pavement.

Traction Control System (TCS)

TCS prevents wheel spin and loss of traction and is particularly helpful when accelerating from a stop.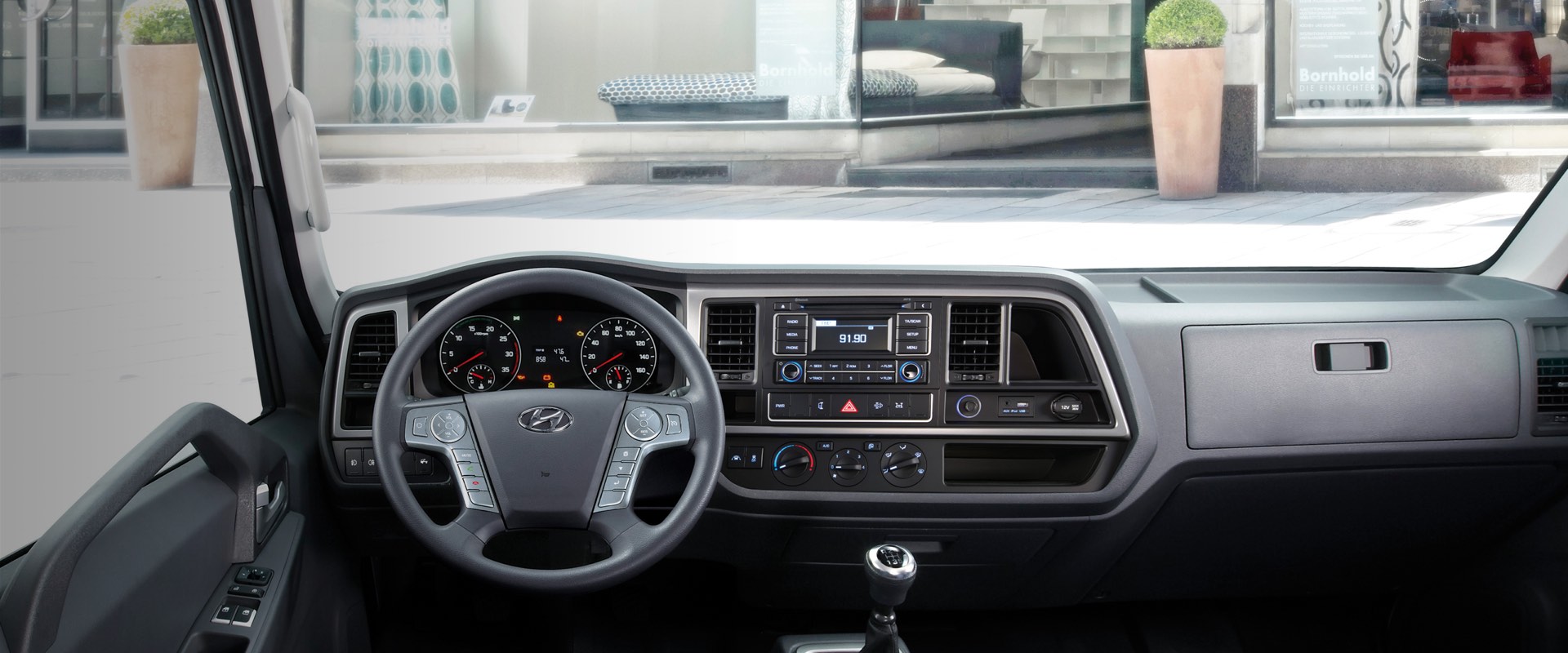 Convenience
To ensure absolutely effortless operation, careful attention was paid to the smallest details inside the cabin such as its size and spacing.
Style
A SURPRISINGLY SPACIOUS AND WELL-EQUIPPED CABIN

Enhanced Forward Visibility
Drivers enjoy a better view, thanks to two factors. First, the crash pad features a new horizontal design. Second, the windscreen rake angle helps maximize the forward view angle.

Horizontal Dashboard Layout
The instrumental panel features a new horizontal layout for a simpler, more modern look. Control switches are also larger and are logically organized for even easier and more intuitive operation.
Maintenance Alert System

This advanced monitoring system issues alerts whenever it's time for an oil change or other important maintenance.

Convenient Audio System

The top-end T800 AM/FM radio offers Bluetooth capability, plays MP3s, CDs and accepts USBs and AUX inputs.

Multi-Function Control Stalks

Light and turn signal control functions are right at your fingertips with these sturdily-built stalks.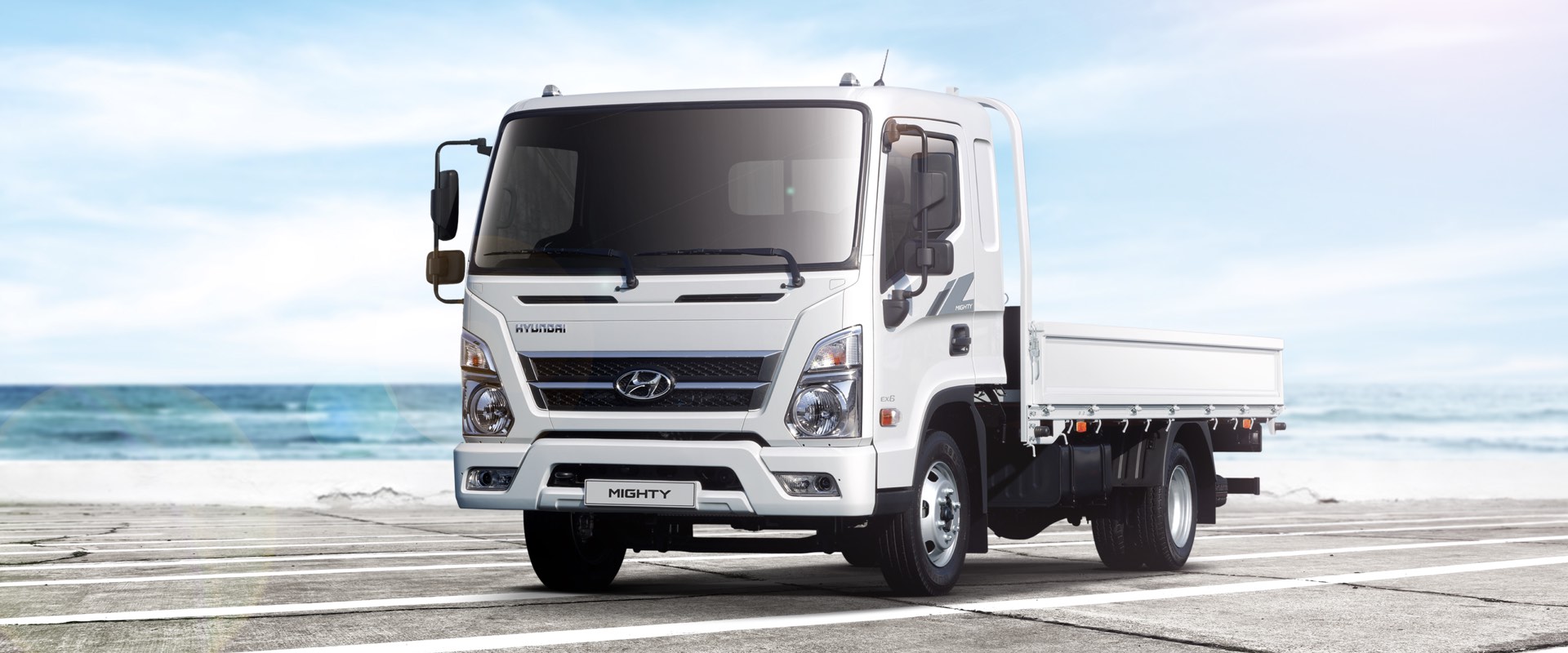 Design
BOLD & CONFIDENT DESIGN

SUPERIOR DESIGN AND FUNCTIONALITY
Stylish and practical, the EX Series achieves a perfect balance of form and function, from the wider cabin door to the improved step design. Thoughtful design puts the Mighty ahead of the competition.
Taller, Wider Side Glass

taller, wider side window provides the driver with a much better view for safer driving. Cross-Type

Stylish Headlamps

The two lamp assemblies are stacked vertically creating an impression of strength and authority

Projection Fog Lamps & DRL

Fog lamp assembly includes projection lenses and daytime running lamps for better visibility especially in adverse weather conditions.

Grip-Type Door Handle

Horizontal handle is large and hefty and provides a secure grip even if wearing heavy gloves

CLASS-LEADING ROOMINESS AND MORE STORAGE AREAS
The EX Series cabin is designed to surpass expectations. Generous interior dimensions allow the driver to stretch out and relax in complete comfort.
Overhead Console

The volume of this handy overhead space measures at an impressive 21 liters.

Glove Box

At 7.6 liters, this generously sized compartment keeps your travel essentials within easy reach. (This does not apply when dual airbag is selected.)

Cup Holders

With these cleverly designed cup holders, quenching your thirst while driving has never been easier.

Seat Back Console

The center seat backrest folds down to offer a tray which doubles as a writing surface.
Rear Panel Console

Mounted on the rear panel, this 4.9 liter console comes with a bottle holder.

Super Cab Rear Space

Super Cab brings the advantage of extra rear space for storing tools or other essential items.

Reclining Passenger Seat and Folding Console

The Super Cab passenger seat reclines up to a maximum of 52 degrees (degress in Standard Cab).

Double Cab

The rear of the Double Cab provides comfortable seating for three more of your crew.
Chassis
Can be flexibly applied to features.
Line up
EX Series Line-up

GVW 5.5t
Short Wheelbase

< 2,850 >
GVW 6.5t
Short Wheelbase

< 2,850 >

Medium Wheelbase

< 3,400~3,600 >

Long Wheelbase

< 3,850~3,950 >
GVW 7.8t
Short Wheelbase

< 2,850 >

Medium Wheelbase

< 3,400~3,600 >

Long Wheelbase

< 3,850~3,950 >

Extra-Long Wheelbase

< 4,200~4,400 >
Specification & e-Brochure Download
Actual models and specifications may be different by region.
Vocation
We are certain that the particular vehicle we propose will never disappoint you. What kind of commercial vehicle do you want?
Network
You can meet modern commercial vehicles anywhere in the world.
Your Location
Korea (Republic of)
HQ

Hyundai Motor Company Headquarter

Phone

82 2 3464 1114

Website

Plant

Jeonju plant

Phone

82 63 260 5114

R&D Center

Hyundai · Kia Namyang R&D Center

Phone

82 31 368 5114