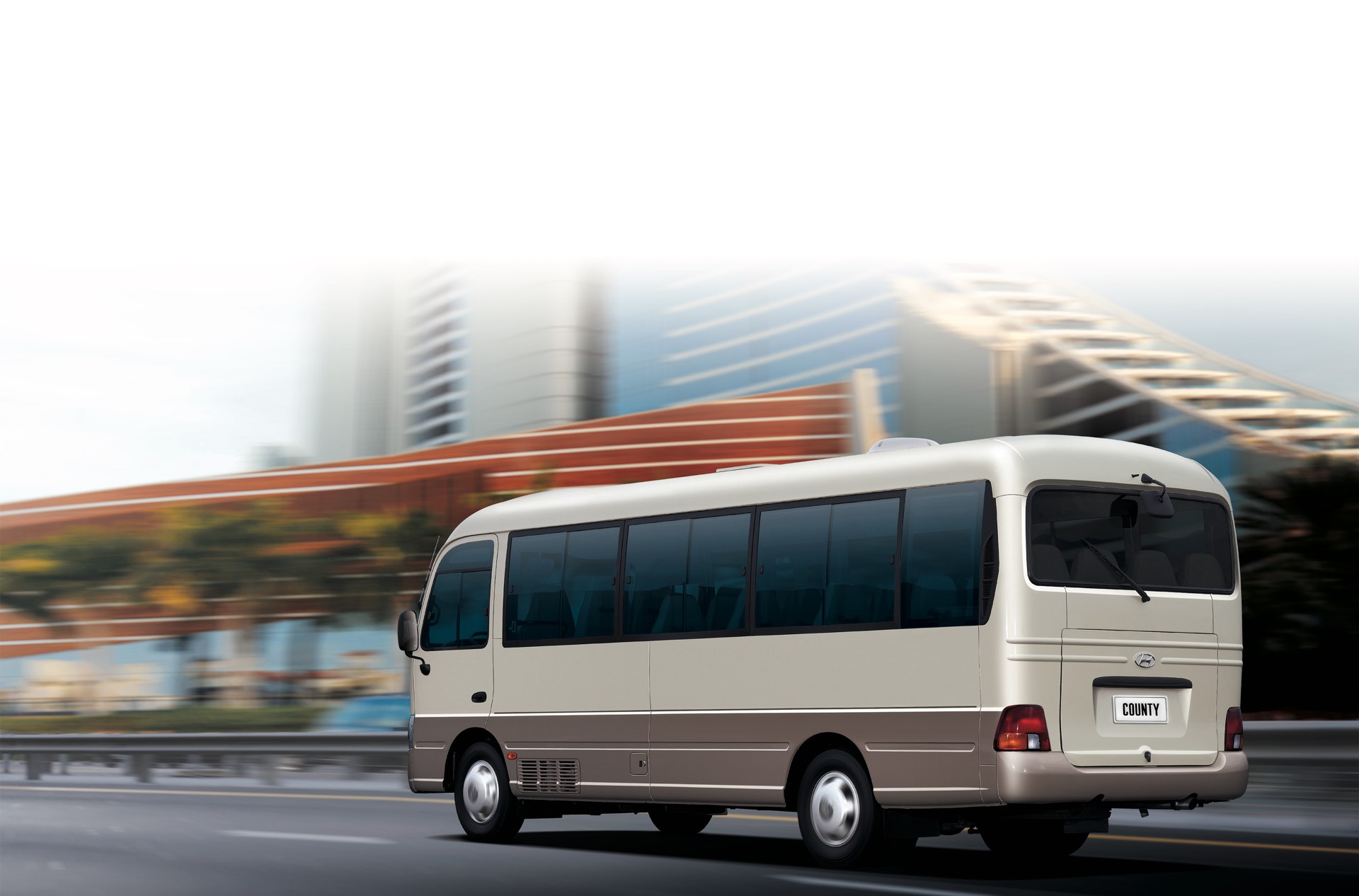 Technology
As a product of Hyundai advanced testing and manufacturing facilities, the County meets the highest standards of performance, durability and safety.
Long Body and Standard Body
It's the County, which offers maximum comfort to your passengers. The smooth outer shell with its flush panoramic windows is practical and easy to clean and maintain. Furthermore, its practical and functional outside mirrors ensure excellent all-around vision. In short, the County is impressive in every aspect.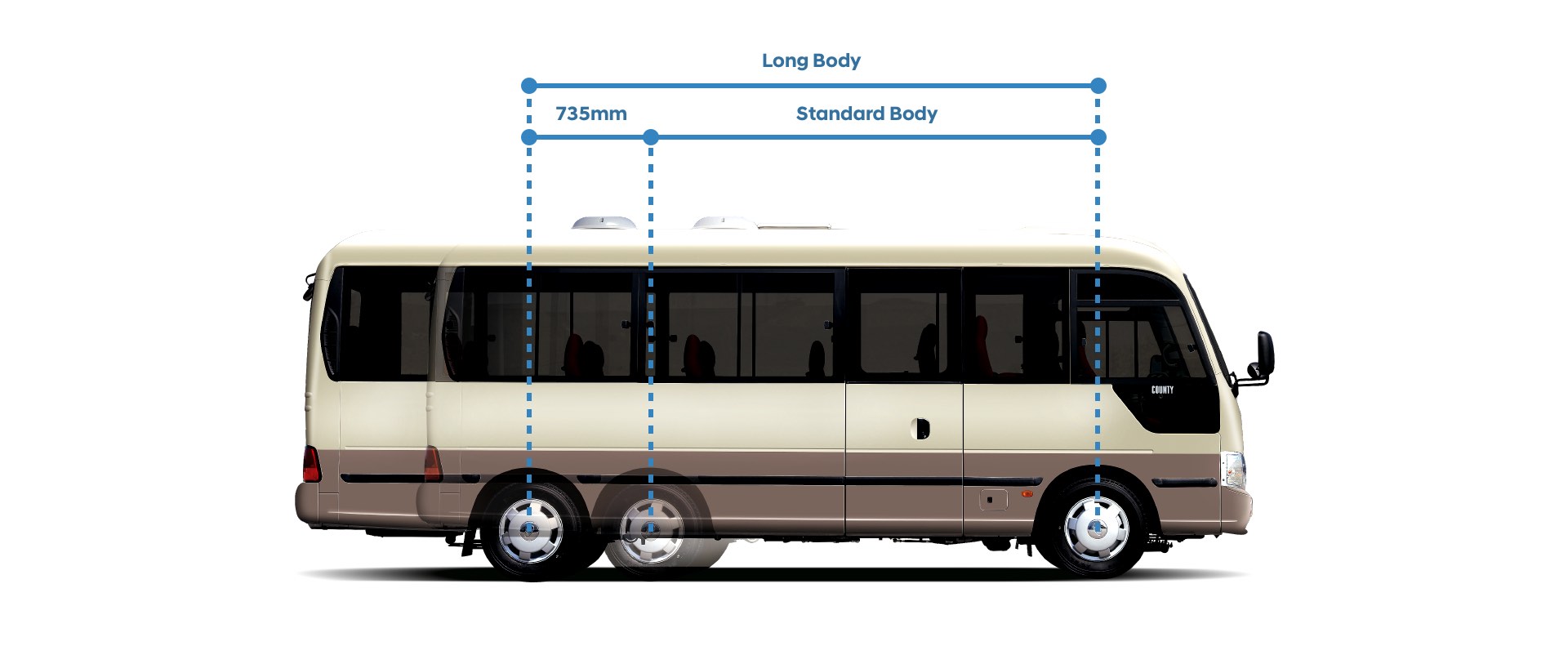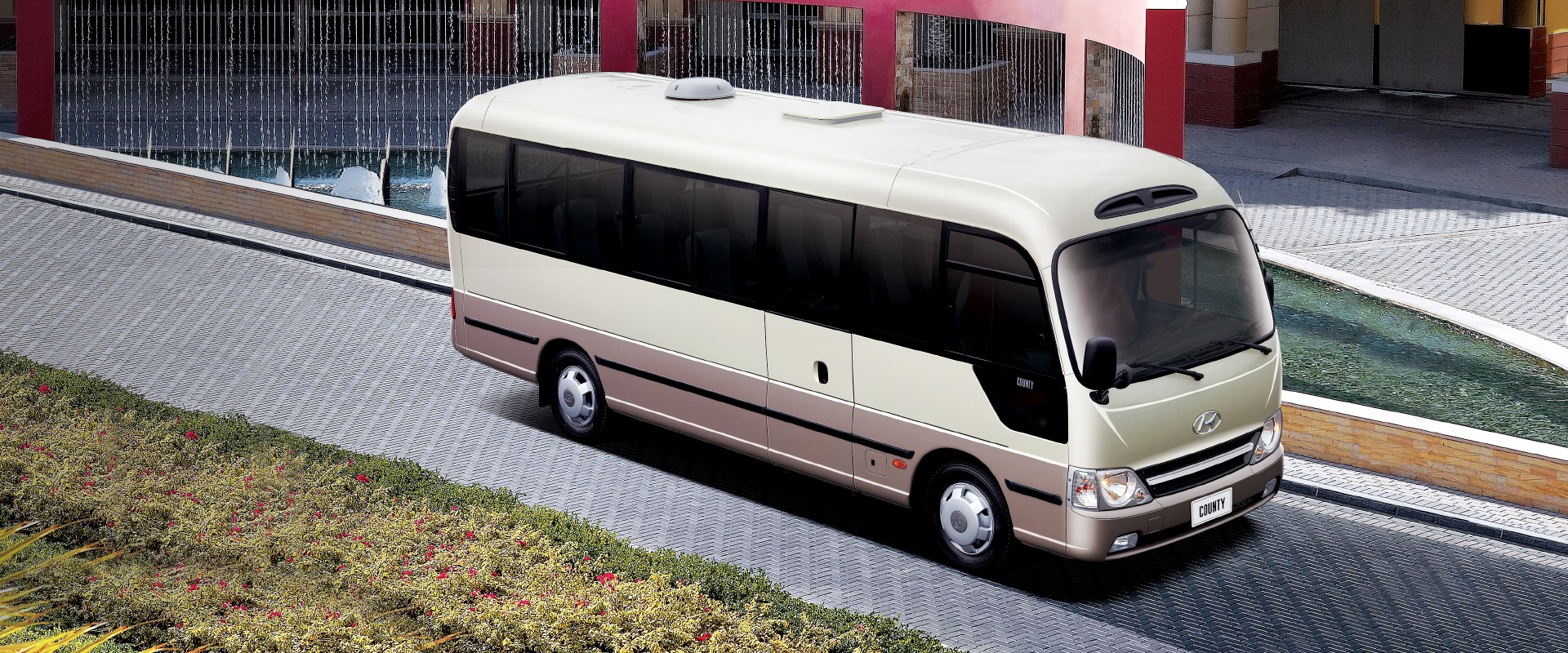 Performance & Safety
The Bus of the Future is Now Here
Engine
Smooth, Responsive and Economical
0,000

~

0,000

Displacement(CC)
Safety
New Technology for Advanced Protection

ABS (Anti-Lock Brake System)
ABS can detect wheel lock which can cause the vehicle to skid out of control and bring the vehicle to a safe, controlled stop while driving under slippery road conditions. (Package option with disc brakes)
Disc Brakes

For safer stops, Hyundai offers disc brakes which include a pad wear indicator.(Option)

Load Sensing Proportioning Valve

For safer stops, the Load Sensing Proportioning Valve selectively distributed hydraulic brake pressure between the front and rear wheels depending on the distribution of the passenger.(Deluxe option)

Exhaust Brake

Very effective while braking on steep descents, the engine exhaust brake reduces wear on the wheel brakes. (Deluxe option)

9+10 Brake Booster

Large size tandem booster provides plenty of hydraulic brake pressure to significantly reduce brake pedal force requirements.
Super Strong Frame
The sturdy body on the box-type frame provides extra stability. The County's wide range of safety factors-both active and passive-ensures the best possible protection for all occupants.
Electro Static Immersion System

Engineered with Computer Aided-Design tools, the new box-type frame represents a significant improvement over the previous rail-type and offers greater resistance against bending and torsional forces.

Chassis Frame

Electro static immersion system guarantees 100 percent coverage for greater resistance against rust.

Pre-Heater

The cabin warms up quickly thanks to the pre-heater system.(Optional)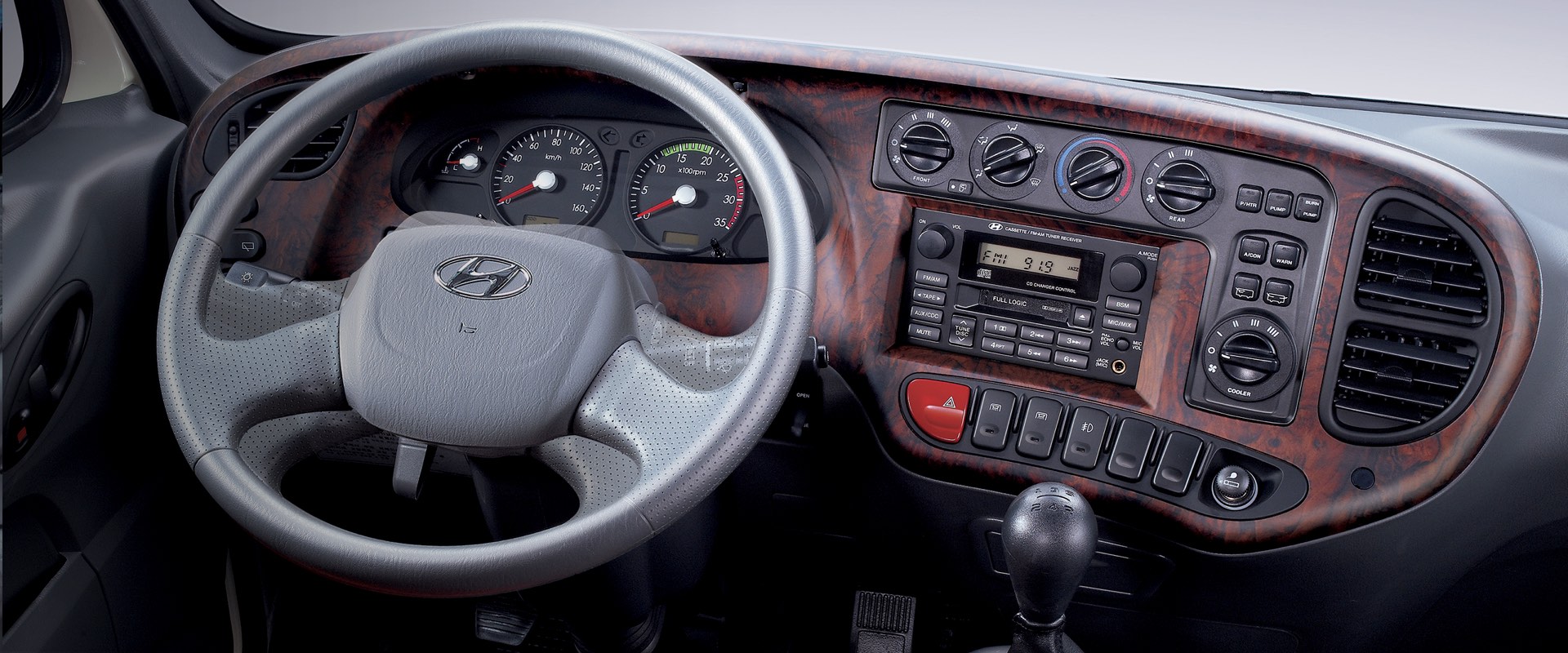 Convenience
TOP COMFORT, TOP CONVENIENCE
Style
A Coach with a Passion for Travel

More room for standing
The spacious interior assures best-in-class comfort for passengers and facilitates passenger interaction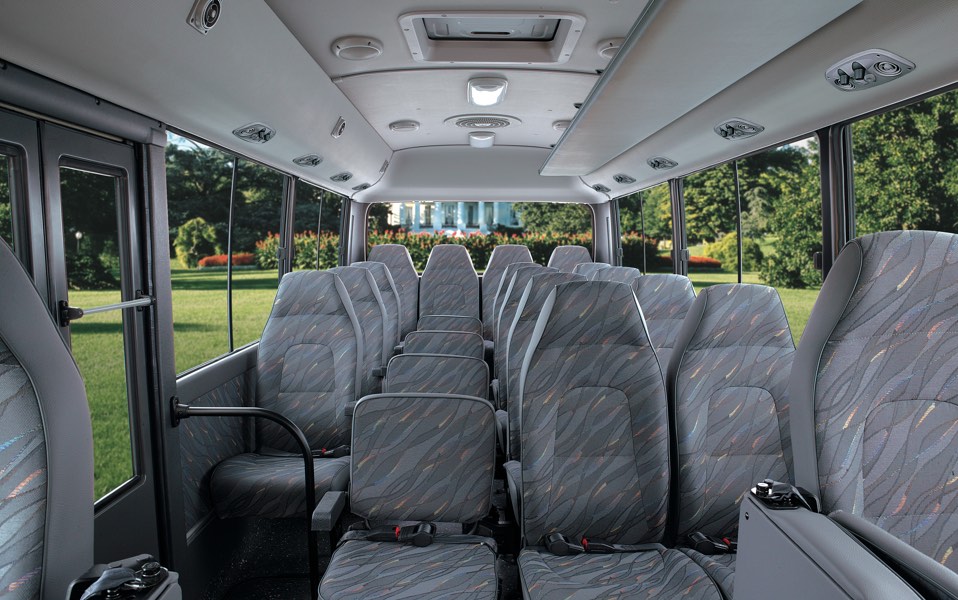 Semi-Cloth Seat
New cushions provides firm but gentle support and seat facings are upholstered in semi-cloth.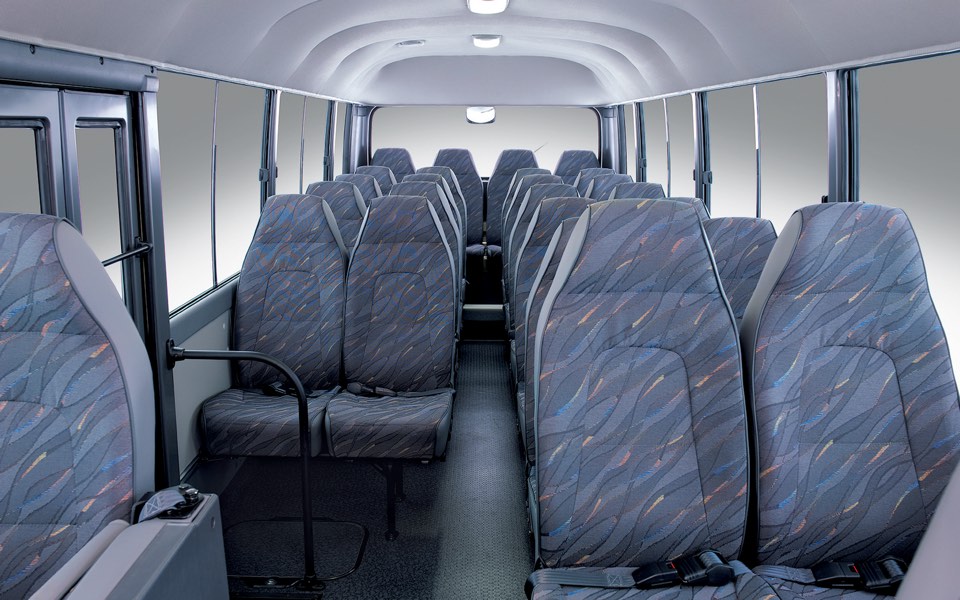 Stanchion bar
Stanchion bars assure passenger's safety and comfort.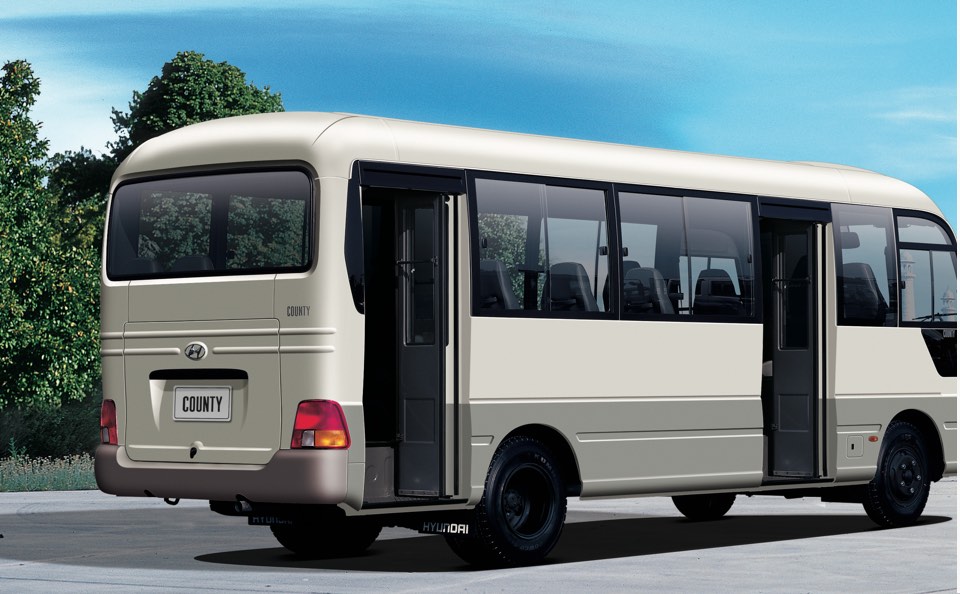 Convenience for entry and exit
With the additional rear door, new County emphasizes comfort for entry and exit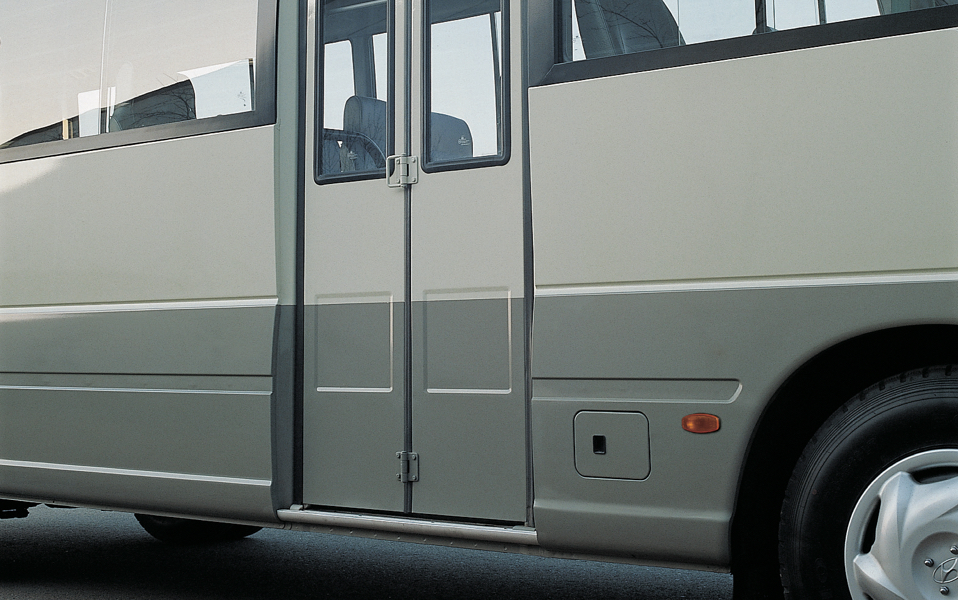 Automatic Folding-Door
Featuring a highly reliable mechanism, the auto folding door will provide years of trouble-free use. (Deluxe model)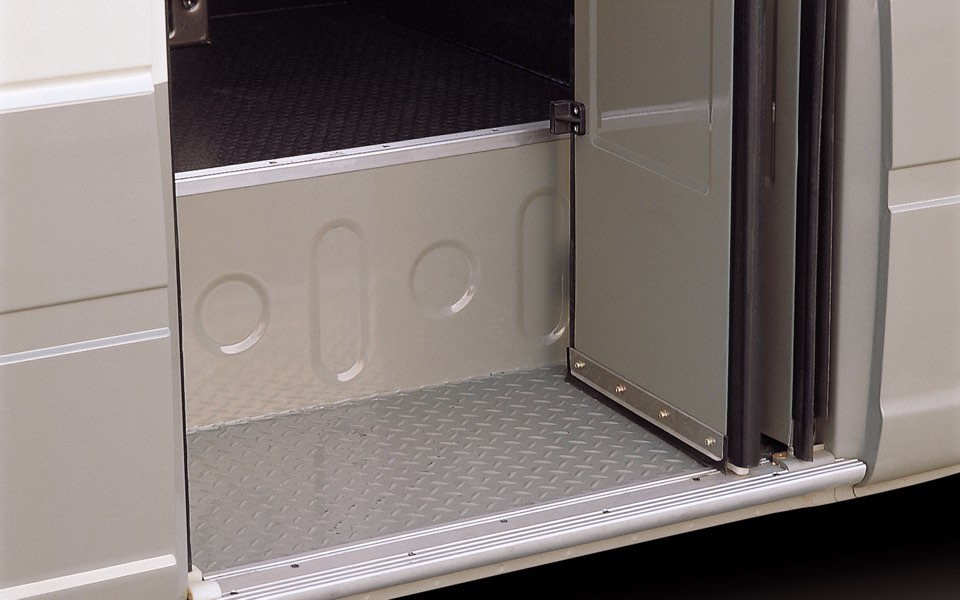 Door Step
The basic feature deters theft and prevents accidental starting.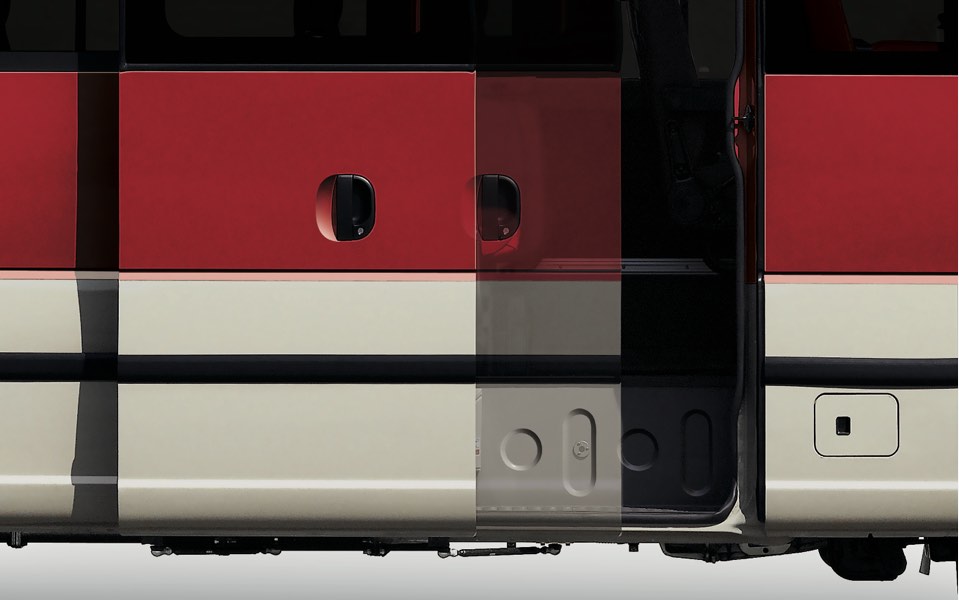 Swing Out Type Door
Swing Out Type door provides stylistic complement to the body lines. Plus, they have been redesigned for quieter operation and easier access.(Deluxe option)
M600 audio systems (Option)

Manual air conditioner (Option)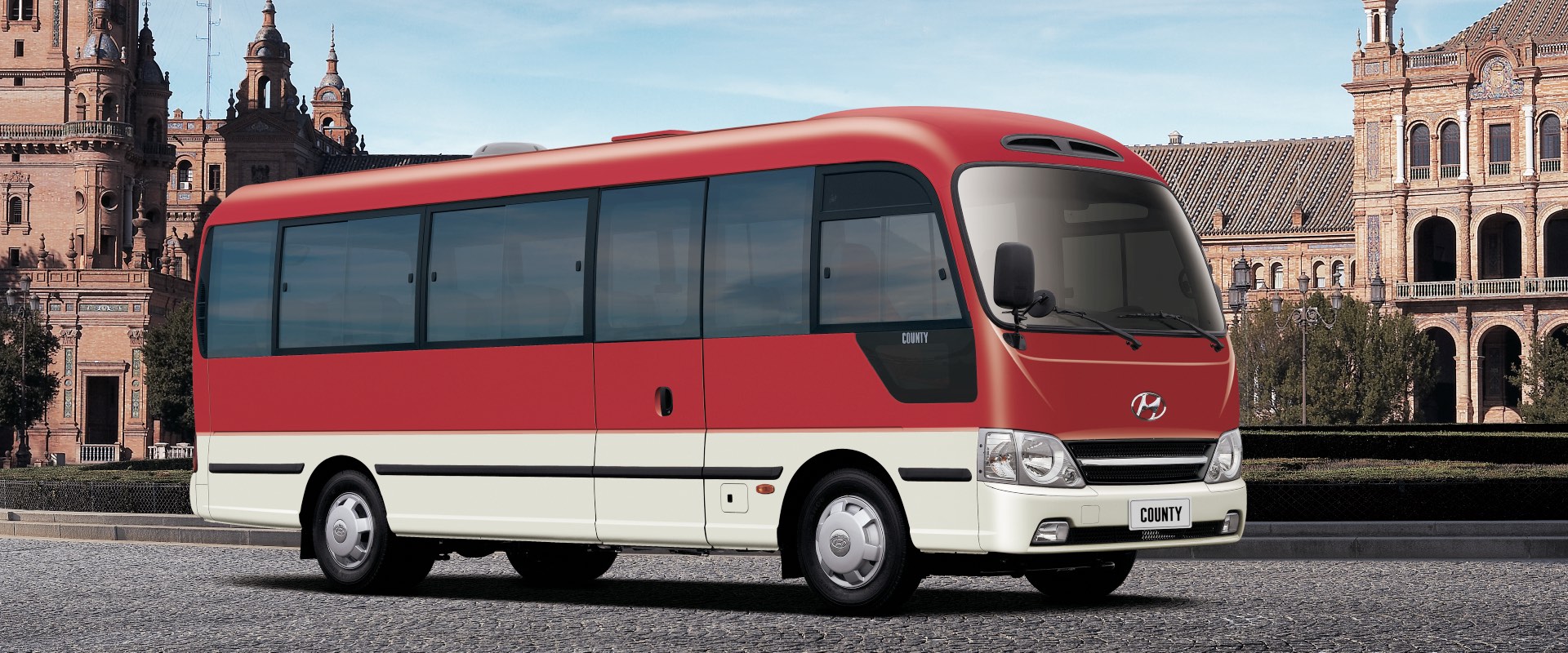 Design
Human - Oriented Hyundai Design

Front Bumper and Fog Lamp
A large and sturdy front bumper adds a muscular note to the elegant body styling theme while the built-in fog lamps provide additional illumination for greater safety in rain and fog.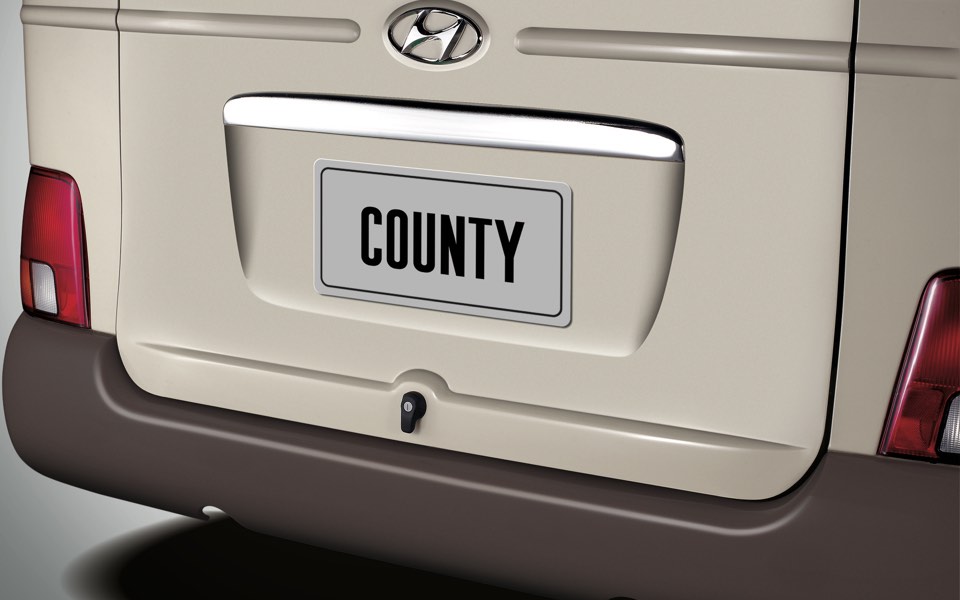 Rear Bumper
One piece-type steel bumper is gently rounded around the edges for a soft look that matches the overall design theme.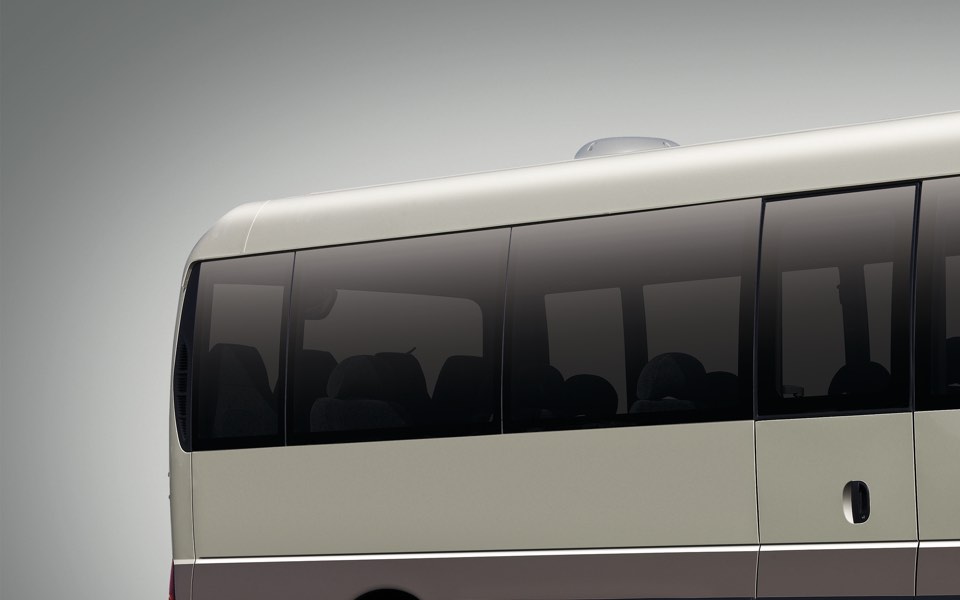 Fixed Type Side Glass
Fixed type side glass not only enhances the overall elegance but offers improved visibility. (Optional)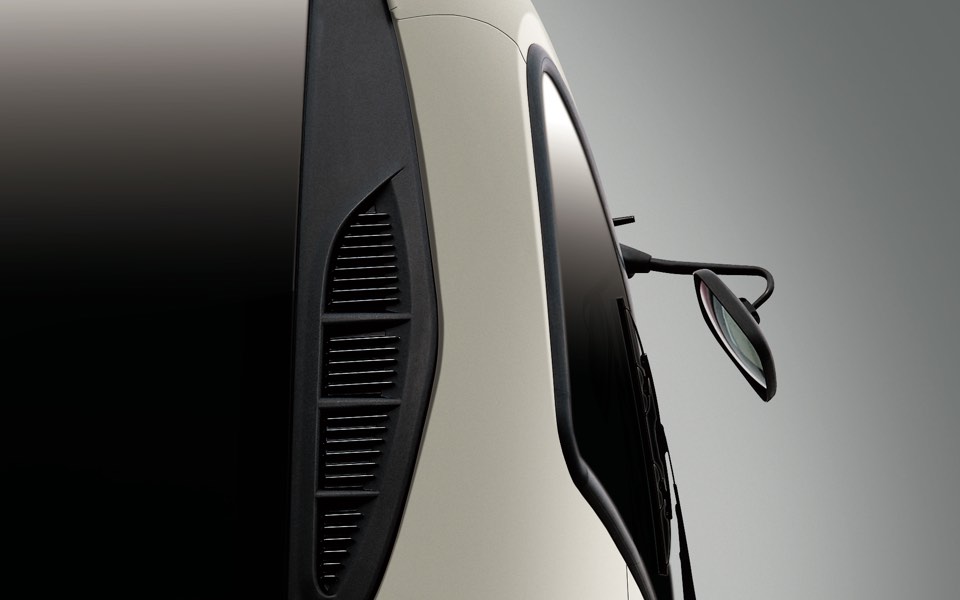 Rear Garnish
Painted black, it lends a muscular look and provides thematic continuity between the side glass and rear section.
SANDY BEIGE & MILKY BROWN

Instrument Panel
Logically organized gauges and controls provide the ultimate in driving convenience.
Roomy Cabin

For greater passenger comfort, the cabin is now wider and taller to provide best in-class comfort and convenience.

Full- Formed Headliner

The County headliner borrows passenger car technology to create a full formed, elegantly contoured surface which enhances interior elegance.(Package option with A/con)

Bucket-Type Driver Seat

Superior performance adjustable seats provide a cradle of comfort and are effective at alerting the driver.

Steering Wheel
It is a lot more luxurious by applying 3D "H" logo emblem on the steering wheel.


Fuel Lid Center Locking System
Cable-actuated fuel lid center locking system makes fueling easier.
Passenger Seat Safety Belts

Featuring a new and improved design, these seat belts are essential safety features and are provided as standard equipment.(Option on the standard model)

Driver's Hanger

There is a hanger that you can put on your coat to reduce your discomfort during driving.

Air Conditioning Louvers and Reading Lamps

Louvers are installed over each passenger seat and can be aimed precisely. Ducts are now larger for improved airflow (available with the A/Con package option in the Deluxe model).

Overhead Shelves

Neatly styled overhead shelves provide a handy place for passengers to stow away their belongings. (Available with A/con package option on the Deluxe model)
Rear View Mirror & Overhead Lamp

Standard 1-Door

(14+1, 15+1, 18+1, 24+1)

Long 1-Door

(24+1, 26+1, 28+1, 29+1)
Specification & e-Brochure Download
Actual models and specifications may be different by region.
Vocation
We are certain that the particular vehicle we propose will never disappoint you. What kind of commercial vehicle do you want?

Network
You can meet modern commercial vehicles anywhere in the world.
Your Location
Korea (Republic of)
RHQ

Hyundai Motor Company Headquarter

Phone

82 2 3464 1114

Website

R&D Center

Jeonju plant

Phone

82 63 260 5114

Service

HyundaiㆍKia Motors R&D Center

Phone

82 31 368 5114